Butter Lettuce, Red Grapefruit & Avocado Salad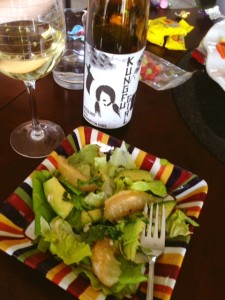 Ingredients
• Dressing:
• 2 tablespoons apple cider vinegar
• 1-2 tablespoons minced shallot
• 1 tablespoon honey
• 2 tablespoons orange juice
• ⅓ cup olive oil
• sea salt
• fresh ground pepper
Salad:
• 8 large butter lettuce leaves, gently washed and dried
• 2 ripe avocados, sliced
• 2-3 large Ruby Red grapefruits, all peel and white pith cut away,
segments cut from between membranes
• Fresh Herbs (Parsley, Mint, and/or Basil) chopped and sprinkled over top of salad.
• Whisk the dressing ingredients together in a small bowl. Set aside. This can be made 1-2 days in advance and refrigerated until day of serving.
• Place the cleaned butter lettuce on individual salad plates. Fill evenly with grapefruit and avocados. Drizzle with dressing , sprinkle with fresh chopped herbs (salt & pepper to taste) and serve immediately.