Lump Crab Cakes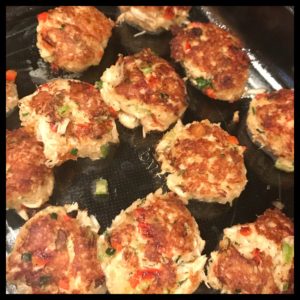 Ingredients
1 lb lump crab meat
2 stalks of celery small dice
1 tablespoon fresh lemon juice
1/4  cup red pepper small dice
1 shallot small dice
1 egg beaton
salt
pepper
1/4 teaspoon cayenne pepper
3/4  cup Seasoned bread crumbs ( I used gluten free in this recipe)
1/4 cup Mayonnaise
1/4 teaspoon Dijon Mustard
1 tablespoon Worcestershire  Sauce
1 stick of melted butter
butter or olive oil for searing,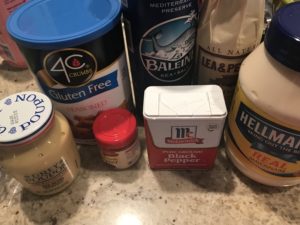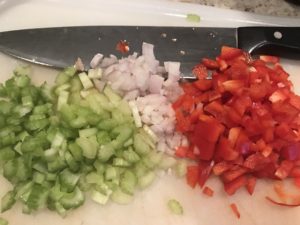 Prep
Dice the shallots, pepper, and celery.  Add to pan (use butter or olive oil).   Saute until tender.  Add all ingredients and melted butter to large bowl.  Mix by hand all the ingredients.  Add more breadcrumb if it's still wet.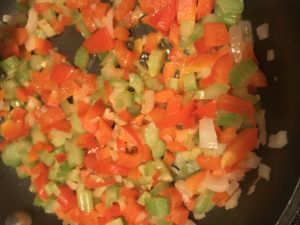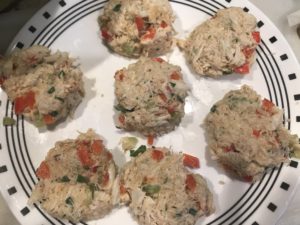 Form into 1/8 cup r 1/4 cup balls and press lightly until you get a patty shape.  1/8 size is good for appetizer portions.   1/4 cup size is better for meal or sandwich.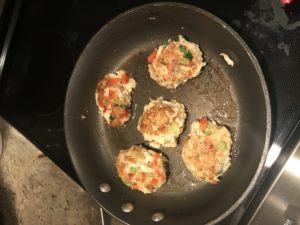 Heat pan.  Use butter or olive oil.  Sear cakes in pan.  Leave room in between to let brown properly.   Sear both sides.  Place in glass baking dish or on non-stick pan.  Bake 350 degrees F for 15-30 minutes.  Serve hot.  Makes a nice addition to a green salad with citrus.
Paired well with a Kim Crawford Sauvignon Blanc.
Serve with Lemon Caper Sauce or Creamy Crab Cake Sauce.  Look for Crab Cake Sauce Post