Curry Eggplant and Bell Peppers
Vegan Recipe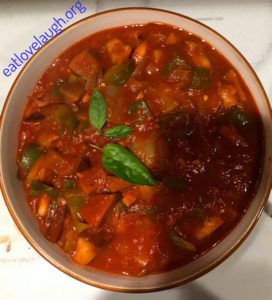 So we've been getting weekly baskets of local farm vegetables from our CSA. And we have a bunch of peppers and a huge eggplant.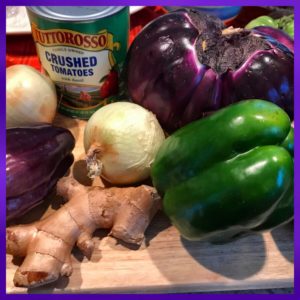 Ingredients
2 medium yellow onions diced
3-4 cloves garlic finely chopped
2-3 tablespoons finely chopped ginger
3 bell peppers cut into 1 inch pieces
3-4 small eggplants cut into inch pieces
2 tspn curry powder
2 tablespoons curry paste
1 tablespoon paprika
2 tablespoons garam marsala
1 tablespoon cumin powder
3 tablespoons olive oil
1 lg can crushed tomatoes
1/2 can of water (tomato can measure)
1 tablespoon salt (more if needed – taste when finished)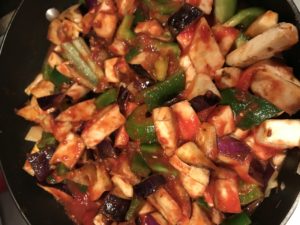 Prep
Cut veggies to same size.. In a large pot heat oil. Add Onion, garlic, and ginger to olive oil. Heat at medium and cook until tender. Add rest of spices to garlic & onions. Stir. Add eggplant and peppers. Stir to coat with spices. Add can of tomatoes and 1/2 can of water. Stir and put cover on pot. Stire occassionally so that all veggies cook to same tenderness. Cook for approximately 30 minutes on a simmer, or until veggies are cooked to your liking. Serve over basmati rice. Add more or less seasoning as you cook. Makes great leftovers.