Bhindi Bhaji, Lamb/Chicken Saag, and Mango Chutney.
serve with a Riesling – I like Kung Fu Girl (Washington State)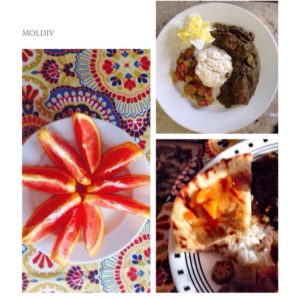 Lamb & Chicken Saag*
INGREDIENTS
2tablespoons butter
Olive Oil for sautéing
*do not add meat if you prefer it to be vegetarian.  Use Paneer instead or just serve over rice.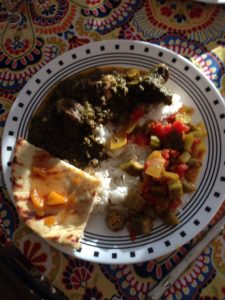 PREP
Fry the chicken in oil for around 3-4 minutes until lightly browned and set aside. Grill Lamb and set aside.
Heat the oil in a pan and add ginger, garlic and onions.
Saute until lightly brown.
Add tomatoes, salt, cayenne pepper, ground cumin, turmeric, clove, garam marsala, and cinnamon.
Add spinach and tomatoes. Cook for about 20 minutes on low heat.
Add 1/ 4 milk and stir in.
Remove in portions and puree in blender.
Add chicken and/or lamb.
Simmer until (about 10 minutes).
Remove from heat, add butter and cover until ready to serve with rice
Bhindi Bhaji ( Okra)
Ingredients1 lb okra (frozen is fine)
1 large can diced tomatoes
3-4 cloves finely chopped garlic
1 large onion diced
1 teaspoon garam masala powder
¼ teaspoon turmeric powder
¼ teaspoon cayenne
½ teaspoon cumin powder
Prep
wash okra in water a
nd dry it using cloth or paper napkin. If possible, complete this process 2-3 hours prior to cooking. Remove head and tail and chop it into 1/3-inch thick round circles.  Or use Frozen Okra and just thaw, rinse and pat dry
Heat oil in a non-stick pan over medium heat.  Add cumin, garam masala, cayenne and chopped garlic. Sauté for 30-60 seconds.
Add chopped okra and mix well.
Cook on medium-low flame until bhindi turns dark green and shrinks. It will take approx10-15 minutes. Stir in between occasionally.
Add chopped tomatoes, and salt; let simmer 20 mins.
Mango Chutney…mmm, mmm, mmm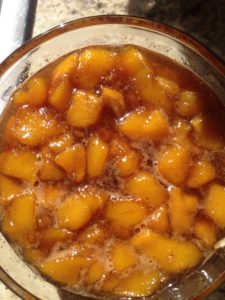 Ingredients
2 large mangoes ( slightly under ripe)
1/3 cup water
1 teaspoon grated ginger
¼ teaspoon clove powder
¼ teaspoon cinnamon powder
1 ½ cups sugar
1 tablespoon apple cider vinegar
½ teaspoon cayenne
½ teaspoon cumin powder
Directions:
Take mangoes which are slightly ripe and has sweet and sour taste (i.e. it should not be fully ripe but not completely raw too). Wash them in running water. Peel and cut them into long and thin slices or small pieces.
Boil 1/3 cup water in a pan. Add mango slices and cook over low flame for around 4-5 minutes. Stir in between occasionally.
Add cardamom pods, grated ginger, clove powder, cinnamon powder and sugar. Mix properly and cook over low flame until slices are soft and tender and mixture turns thick or for approx. 15-20 minutes.
When mixture turns thick, add vinegar and salt. Stir and cook for 4-5 minutes.
Turn off flame and allow mixture to cool at room temperature. Sprinkle cumin powder and cayenne  over it and mix well. The chutney would get thicker as it cools.
Sweet and hot mango chutney is ready; Transfer it either to serving bowl for immediate serving or to sterilized glass bottles and store in a cool, dry place for anytime use.