Scandinavian Almond Cake
 
Recipe from Aunty Nancy and cake pan from Cindy-mom!
And we've been asked to bring desserts to my brother's house for our holiday gathering.  Looks like I'm going to impress the fam!
Ingredients
1 1/4 cup sugar
1 egg
1 tspn pure almond extract ( I used 2 tspn….I love almond)
2/3 cup whole milk
1 1/4 cup flour
1/2 tspn baking powder
1 stick melted butter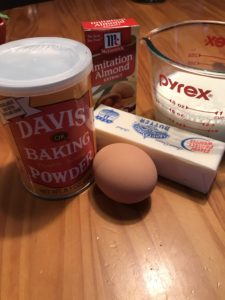 Prep
Mix sugar, egg, exact together with a whisk. Add milk slowly and mix into egg/sugar mixture.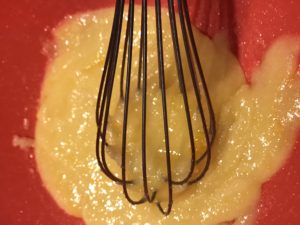 Next slowly add flour and baking powder (do it alittle at a time). When mixed in to butter/egg and the melted stick of butter.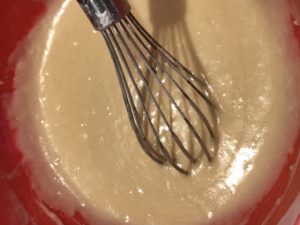 Pour into greased & floured (use cooking spray) Rehrücken Pan (ribbed cake pan – available on Amazon.com)
Bake at 350F for 40-50 minutes. Let cool, remove from baking pan and plate.  It will break if you remove too soon.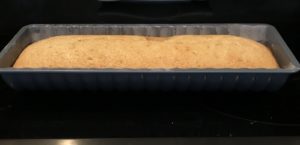 Feel free to sprinkle powdered sugar over top. Serve as is or with ice cream or fresh fruit topping.
I imagine you could substitute the almond exact for lemon or vanilla. Which would be great with fresh berries, too.
The cake is nice with a hot cup of coffee.  Even, your Italian Nonna is going to love this!
By the way, it is super easy to make. My little monkey assisted me.  She loved licking the spatula and bowl at the end.   While making it she asked, "Whats 'Sandinavian' mean?"   So I explained that Scandinavia refers to an area that contains the countries Denmark, Norway, and Sweden and that sometimes Iceland and Finland are considered to be part of that area.  I said Aunty Nancy and Cindy's families are from Iceland. She seemed satisfied with knowing that.
So not only, is this cake delicious, it gets your kids thinking about geography.  And thank you Cindy for sharing this delicious cake with us at Christmas and Nancy for sharing the recipe.  Not to mention, Cindy stopped by on New Year's Day with the Rehrücken pan.