Spicy Pickled Green Beans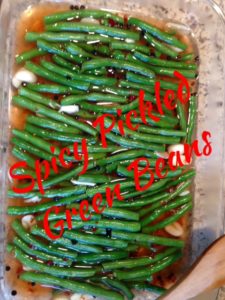 Ingredients
3/4 lb trimmed Green Beans
3 -4 cloves of garlic – sliced thin
2 tablespoons coarse salt
2 tablespoons sugar
2 tablespoons crushed red chiles*
1 tablespoon whole black peppercorns
2 cups white vinegar
Preparation
Arranged green beans  and garlic in shallow glass dish. Bring vinegar, salt, sugar, peppercorns and crushed chiles to a boil.   Pour mixture over beans and let cool.
Place beans in quart jar, pour in liquid and put in fridge.  Should last about a month in the fridge.
You can place beans and garlic in glass canning jars and pour liquid evenly into both and can.
*use less chile if you prefer it to be a bit milder.