Vegan Snack, Lunch, or Breakfast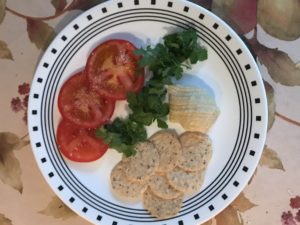 I love hummus, cilantro and tomatoes. Even better is to eat them together.
This is a quick and nutritious snack, lunch, or breakfast.
And its VEGAN and Gluten-Free.
Ingredients
Hummus

Cilantro

Tomato

Olive Oil

Pink Himalayan Sea Salt

Rice Crackers
Prep
Plate your hummus, slice your tomato, drizzle a little high quality olive oil, and sprinkle with pink sea salt (or another mineral rich salt). Add some rice crackers and serve.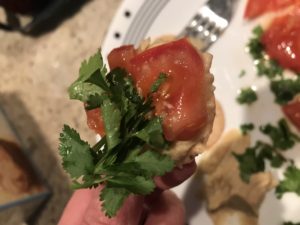 You can eat separately or make little "sandwiches"
LEARN MORE ABOUT HEALTH BENEFITS by Click the links below:
Cilantro is considered a super herb. It cleanses the body of toxic metals and isa good source of fiber, vitamins A, C, E, K,calcium, iron, potassium, and magnesium.
Pink Himalayan Sea Salt contains up to 98 percent sodium chloride. The rest of the salt consists of trace minerals, such as potassium, magnesium, and calcium. Some claim it also increases your libido 🙂
Olive Oil is rich in antioxidants, which reduce inflammation and protect cells against oxidization. It may also lower cholesterol, reduce the risk of type 2 diabetes, heart disease, and cancer. Olive oil is good for brain health and hormone development.
Hummus is super good for you. It contains a high content of important minerals: manganese, copper, sodium, calciu, iron, magnesium, and zinc. Vitamins C, B6, E, K, Folate, and Thiamin. PLUS 20 essential Amino Acids and Omega 3.
Tomatoes are a good source of of the antioxidant lycopene, which has been linked to many health benefits, including reduced risk of heart disease and cancer. They are also a great source of vitamin C, potassium, folate and vitamin K.
Be sure to follow me at eatlovelaugh.org for tasty recipes and Tacocat Messages. You can also find me on instagram eatlovelaugorg and twitter @eatlovelaughorg

#eathealthy #behealthy #nutritionschool #vegan #glutenfree #eatyourveggies
Information credits: Healthline.com, humus101.com, washingtonpost.com, and thechalkboardmag.com