Vegan "Tabbouleh" Salad ~ Gluten Free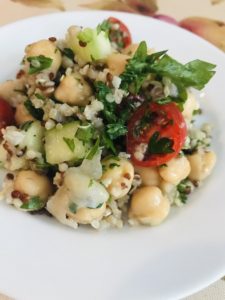 I love Tabbouleh….but now that I've eliminated gluten from my diet I had to figure out a way to make this amazing salad.   I opted to use tri-color sprout quinoa instead of bulgur.
Tabbouleh is traditionally a  vegetarian salad made of finely chopped parsley, with tomatoes, mint, onion, bulgur, and seasoned with olive oil, lemon juice, salt and pepper.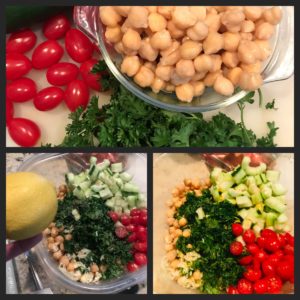 This recipe adds diced cucumber, chickpeas, and bit of red wine vinegar.  It's all done to taste. So season as you go.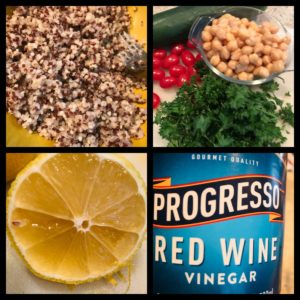 Ingredients
1 cup tri-color organic sprouted quinoa
1 lemon (zest and ½ for juice)
3 cloves of garlic minced
1 large can of chickpeas, drained and rinsed
1 bunch of fresh parsley, washed and finely chopped
1 cup of small tomatoes sliced in half
1 cucumber (remove seeds) peeled and chopped small
¼ cup of red wine vinegar
½ cup olive oil
Salt and pepper
You can add fresh mint and green onions, too.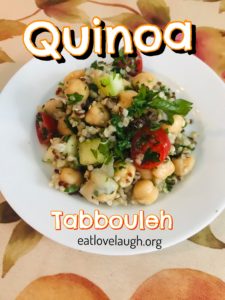 Prep
Cook the quinoa, set aside, let cool and fluff with fork.   Clean veggies and cut. Peel, seed, and dice cucumber. Slice tomato in half.   Drain and rinse chickpeas. Wash and finely chop parsley. You can add mint, too.   Add all ingredients to a large mixing bowl. Add finely chopped lemon zest, salt, and pepper and toss.   Add dressing ( ½ juice of lemon, ¼ cup red wine vinegar, and ½ cup of olive oil). Mix together and serve.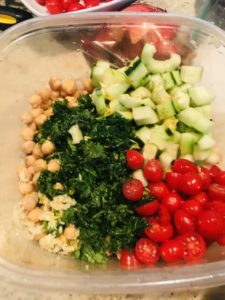 You can serve alone or place on a bed of chopped lettuce.  This makes a tasty side dish or a nutritious lunch.
Click this link and learn more about the health benefits of quinoa by visiting healthline.com Quinoa   has anti-inflammatory, anti-viral, anti-cancer and anti-depressant effects.  It contains quercetin and kaempferol; flavonoids with super health benefits. Quercetin has the ability to reduce inflammation, eliminate pain, protect against cardiovascular diseases, act as an anti-cancer, boost the immune system, reduce histamines, and decrease irritation of the skin.  Kaempferol is a polyphenol antioxidant found in fruits and vegetables. Studies have found that kaempferol helps in  reducing the risk of chronic diseases, especially cancer.
Watch the salad being made.