As I mentioned in previous posts we love The Farm and getting our weekly CSA fruit and veggie basket.   This week combined the blueberries and kale to make a super tasty salad.
check out this link to see how easy it is to make
Some people are down on kale.  I think it's because they probably had it just chopped or sauted; which are both good but nothing special.
This recipe takes the summer taste of blueberries and the heartiness of kale and combines it into a super tasty recipe.  
The way it's prepared it can last a couple of days in the fridge and be ready to go for lunch boxes the next couple of days.  Or you can serve it family style at a dinner.   Or just plate individually for a pretty presentation.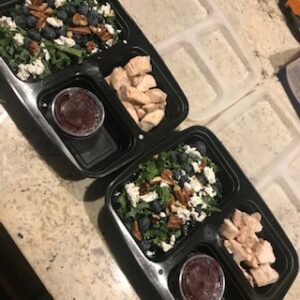 Obviously, you can adapt the recipe to meet your dietary preferences.  Skip the cheese and chicken and make it vegan or skip the chicken and it's vegetarian. 
Hope you enjoy it as much as we did.   
Ingredients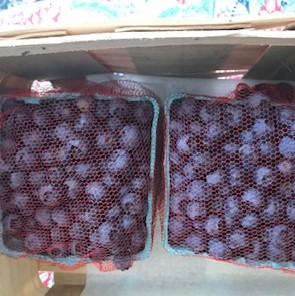 4 (1qt) cups blueberries (divide in ½)
1 lemon ( zest, ½ for juice)
1 ½ cups of chopped pecans
Garlic/Herb Goat Cheese*
1 large bunch of Kale (remove from stems)
1 ½ lbs of chicken breast
¼ aged white balsamic vinegar
½ cup olive oil
2 tbspn honey
Salt
Pepper
Garlic Powder
Prep
Clean, wash, and remove ribs from Kale. Break Kale apart with hands and "crumble" together. This will soften the kale. Then chop kale. Set aside in large bowl.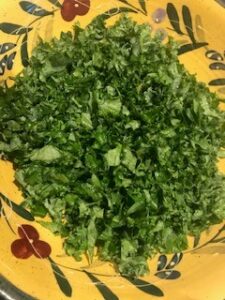 Season chicken with salt, pepper, garlic powder. Grill chicken, set aside. When cool to the touch go ahead and cut into cubes/chunks.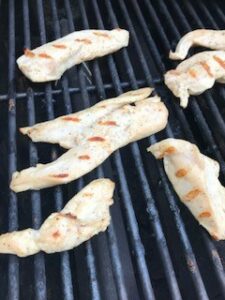 Wash berries. Divide into 2 cups each. ½ to be used as whole berries in the salad and the other ½ to be used to make the blueberry balsamic dressing.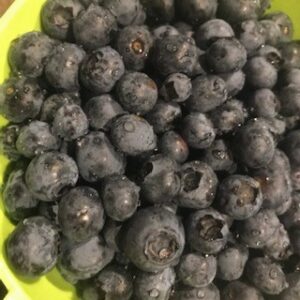 Chop nuts and side aside.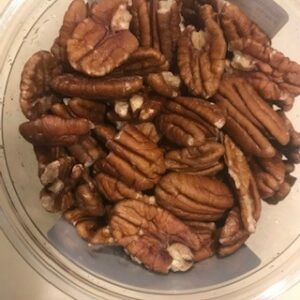 Dressing: add berries and juice of ½ lemon to food processor or blender. Puree. Add oil, vinegar and honey and pulse again. Add more oil if it needs to be thinned out. You can add salt and pepper to taste if you like. I did not add any. The chicken was seasoned.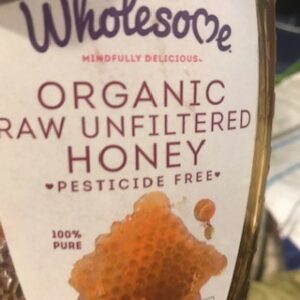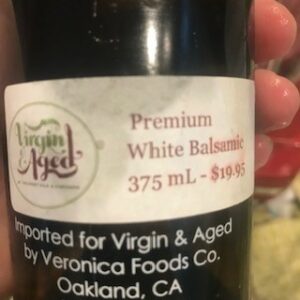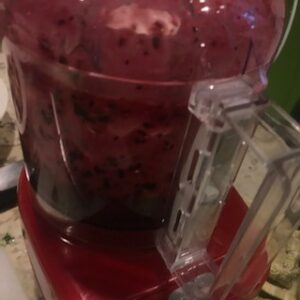 Go ahead and plate the kale, berries, pecans and goat cheese. Put some lemon zest on each salad and drizzle the blueberry balsamic dressing. Mix/toss together on your plate to get all the kale coated with the blueberry dressing.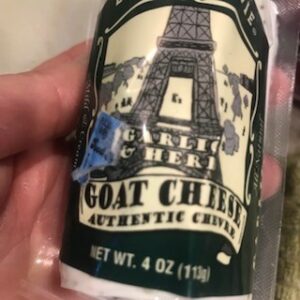 Ready to serve. Keep items separate for easy storage in the fridge and freshness. Items will last several days in fridge. This makes a tasty summer dinner or weekday lunch.
*you can use different cheese if you like or none at all.