Chicken Elixir Tortilla Soup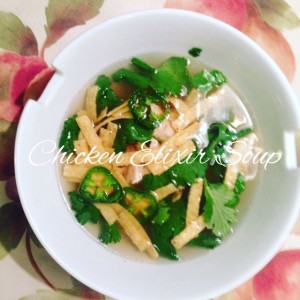 Ingredients
Chicken Stock
8 cups water
Chicken bones
1 large onion
2 carrots
2 celery stalks
1 clove of garlic
Salt
Pepper
Jalapeno
1 lb Chicken Breast
Cilantro
Lime
Prep
Make Home Made Chicken Stock
• 8 cups water
• Chicken bones
• 1 large onion
• 2 carrots
• 2 celery stalks
• 1 clove of garlic
• Salt
• Pepper
• Tortilla strips ( find near salad fixins)
In soup pot add ingredients and simmer about 2 hours
Put aside and skim fat (better to cool and remove)
Grill Chicken breast (seasoned)
Remove skin and dice.
Serve in a large bowl. Add stock, diced chicken, handful of fresh cilantro, squeeze of ¼ lime, handful of tortilla strips and 2-3 slices of jalapeno.