Chili con Carne with veal, pork, beef, and beans ~ muy bueno!
or just use all ground beef if that's what you have on hand
Ingredients
3/4 lb ground beef
3/4lb ground pork
3/4 lb ground veal
2 yellow onions diced
1 jalapeno* (seeds removed) finely chopped – divide into 1/3 & 2/3.   Save 2/3 for garnish.
4 garlic cloves minced
4 tablespoons chili powder
1-2 teaspoons salt (season as you go)
2 teaspoons ground cumin
1/2  teaspoon dried  oregano
1/4 teaspoon cayenne
1  16 oz can whole peeled tomatoes
1 16 oz can diced tomatoes
1 16 oz can beef broth
2 tablespoons tomato paste
1 teaspoon  brown sugar
1 16 oz can red kidney beans rinsed
1 16 ozmcan cannelloni beans rinsed
Sour Cream, Tortilla Chips, Jalapeno  & Shredded Cheese to top the chili.
* substitute jalapeno with green bell pepper.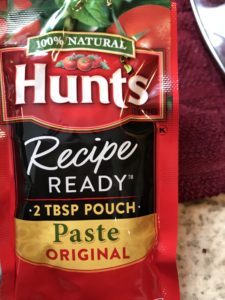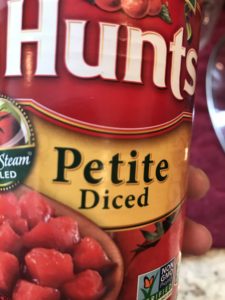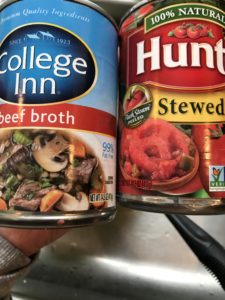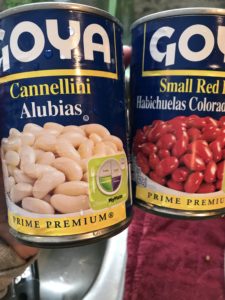 Prep
In a large saute pan add the veal, pork, and beef when the pan is hot.   When cooking be sure to break apart the meat.  When meat is cooked transfer to large pot or slow cooker.  Do not drain the fat – you can remove this later.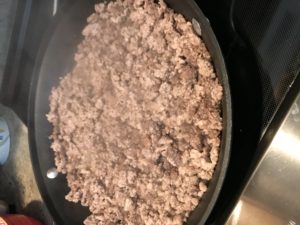 In same saute pan ( do not rinse) add the onion, garlic and 1/3 of the jalapenos. If necessary add a bit of oil when sauteing the veggies. Saute for 3-5 minutes.  Transfer to pot/slow cooker.  Add dry seasonings (add salt as you go so it is to your liking), add diced tomatoes with juice, broth, and  tomato paste. In a separate bowl break apart the whole tomatoes with your hands. Add tomatoes and the juice to the large pot/sow cooker.  Stir well and turn on to medium heat.  Let cook for 1 hour.  Turn down to low and add the two cans of beans.   Mix together and cook for another 30 minutes. Skim fat before serving.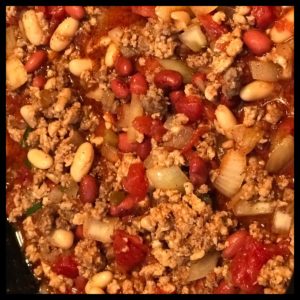 Serve in large bowls and garnish with shredded cheese, a dollop of sour cream, and a sprinkle of jalapeno peppers.  And add some good tortilla chips on the side for dipping.  I like the Late July brand.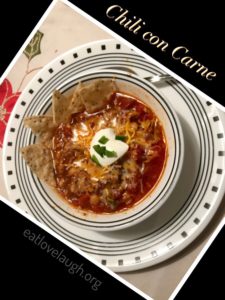 Enjoy!
The meat mixture is the remainder of the 1 lb portions I used for the Italian Wedding Soup Recipe.  Plan to make these together or save and freeze and use at a later date.   Waste not – want not.