Cuban Mojo Pork Tenderloin Roast ~ Lechon Asado
Mojo – means sauce.  Typically the Cuban mojo's contain bitter orange (citrus), mint, cilantro, garlic, cumin,  We used fresh orange juice, the orange zest and lime juice, combined to get something close to the flavor of the bitter orange.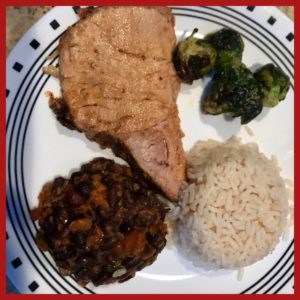 The Cuban Mojo Pork Roast is often the centerpiece of many Cuban Celebrations and Feasts.   We're not Cuban; but we're serving it today on New Year's Day with friends and family.  Of course, serve up some rice and beans!  Click for black beans recipe.
Ingredients
3/4

cup extra-virgin olive oil

1

tablespoon orange zest

1 orange –  fresh squeezed  orange juice

zest of 1 orange

1 lime – fresh l squeezed lime juice

1

cup cilantro chopped

1/2  

cup mint leaves chopped

6 garlic cloves minced

1

 teaspoons dried oregano 

2

teaspoons ground cumin

Kosher salt and pepper

3

and 1/2  – 4 pounds boneless pork shoulder (one piece – not sliced)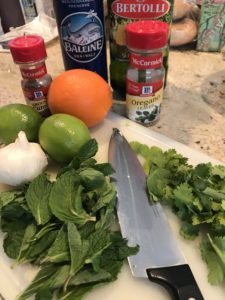 Prep
In a bowl add orange zest, orange juice, lime juice, and olive oil.  Add cumin, oregano, and salt to juice.   In a processor grind garlic, mint, cilantro and a bit of olive oil if necessary.  Add mixture to bowl with zest, spices, and juice.  Mix well.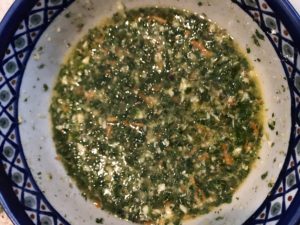 Place meat in a large bowl or large Ziploc bag.  Add marinade to meat and let sit over night.  If you don't have overnight – you can let sit for 5-7 hours.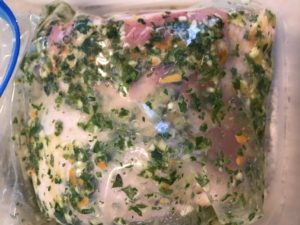 Preheat oven to 425 F.  Place  on a roasting pan or a wire rack over a rimmed baking sheet.  Place in the oven.
Place the pork ( discard marinade)on the wire rack.   Add Salt & Pepper and roast for 30 minutes – or until lightly browned.
Turn the oven down to 375 F and roast for another 1 1/2 hours or until meat thermometer is 160.
Transfer to a large board or serving dish. Let rest for 20 minutes, carve against the grain and serve
.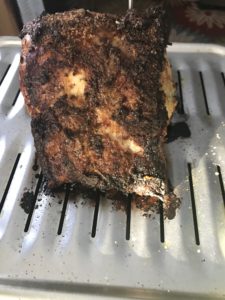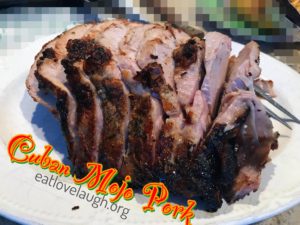 And if you have any…..use leftovers in a Cuban pork sandwich the next day.