Eggplant & Mushroom Meatballs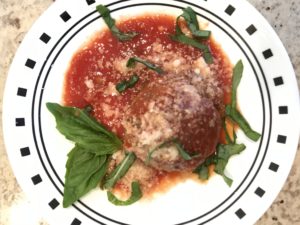 Ingredients:
1 eggplant

4 cloves of garlic

3 tablespoons chopped parsley

3 tablespoons chopped basil

⅓ cup of pecorino cheese

1 oz dried porcini or mixed woodland mushrooms

2 large eggs

¼ teaspoon crushed red pepper

3 cups seasoned bread crumbs (gluten free if you like)

3 tablespoons flour or rice flour

Olive oil

Salt & Pepper to taste

Your favorite tomato sauce ( I make my own)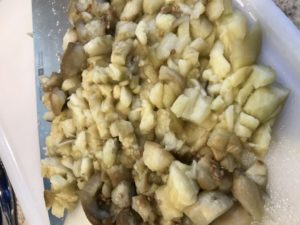 Prep:
Poke holes in eggplant with a fork. Place on baking sheet. Bake at 350 degrees for 1 hour.  Put aside and let cool. Cut open – it will cool faster. Place mushrooms in 1 cup of very hot water and let sit.  When mushrooms are soft, squeeze water out of them and finely chop the mushrooms. Save the water you will add this to your tomato sauce later.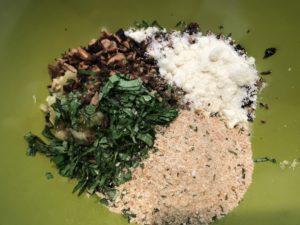 When the eggplant is cooled, remove from skin and chop into small pieces. Place in a large bowl.   Add, salt, pepper, crushed red pepper, minced garlic, breadcrumbs, cheese, eggs, parsley, basil, and chopped mushrooms.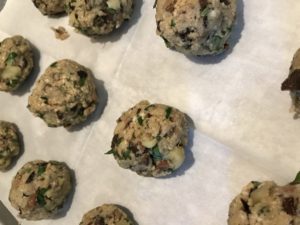 Mix together with your hands, form into balls.  Place on a baking sheet or plate. Dust lightly with flour.  In a large skillet heat the olive oil. When hot place the "meatballs" in the pan and brown on all sides.  When finish browning set aside.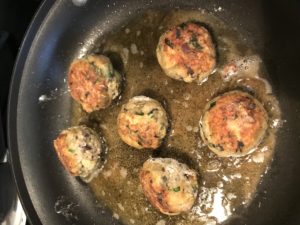 In the saucepan make your tomato sauce and add the remaining water from the mushrooms. DO NOT pour all of it in. Pour it slowly and be sure not to let residue get in the sauce.  Mix together, simmer and then add meatballs. Heat for a few minutes. No need to cook for hours. It's ready to serve. Garnish with fresh basil and some more cheese.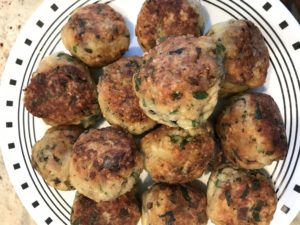 If you like, place a few on a dish and melt some mozzarella cheese over the top.