Polish Stuffed Cabbage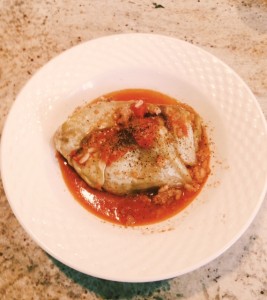 Ingredients
1 onion chopped
1 lb ground beef
1 lb ground pork
4 cloves garlic minced
1 large cabbage
1 small can diced tomatoes
1 lg can plum tomatoes
1 small can beef broth
1 ½ cups cooked rice
2 eggs
4 tablespoons grated cheese
Paprika
Salt
Pepper
Mixture and Baking
Saute onion (butter or oil), add ground beef and ground pork.
Core cabbage and Boil Cabbage 3- 5 minutes. Drain.
Mix together meat, onions , two eggs, rice and garlic. Add salt, pepper, paprika and cheese.
Stuff leaves with mixture (make a small envelope).
Place in baking dish. Add tomatoes and broth. Back 350 degrees for about 1 hour.