Jalapeno Poppers Stuffed with Chicken, Cilantro, & Cheese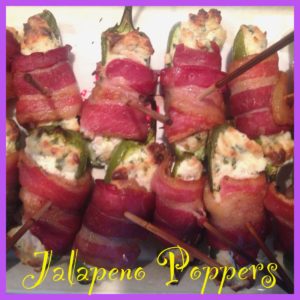 Ingredients
10-12 jalapeño peppers
1 package Philly Cream Ceese
12 strips smoked bacon (cut in 1/2)
1 cup finely diced cooked chicken
1 cup Finley chopped cilantro
1 scallion diced
1/4 cup finely diced onion
1 freshly squeezed lime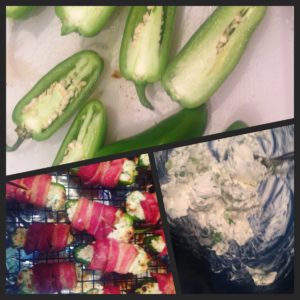 Prep
Slice peppers in 1/2 and remove seeds.
Mix cheese, lime juice, cilantro, and chicken together. Fill each pepper. Wrap with 1/2 piece of bacon and put a toothpick through it.
Line baking pan with foil ( you'll be happy later for doing this) place backing rack on baking pan and set peppers on rack ( you need the rack to the bacon fat drips down) . Bake in oven at 400 for 20-30 minutes Then place under broiler on low for 5-10 mins to get crispy bacon and brown on top.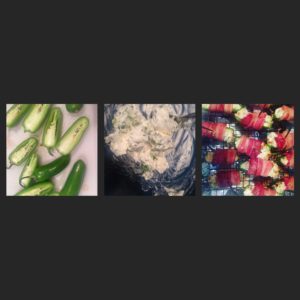 You'll impress your friends–this makes a super tasty appetizer for your summer parties. If you need to make ahead just bake, let sit at room temperature and just broil before you're ready to serve.