Kissing Shrimp – Yes, you can eat this with all this garlic and still kiss your sweetheart!
Do you want to make something super easy- BUT SURE TO IMPRESS YOUR GUESTS!?!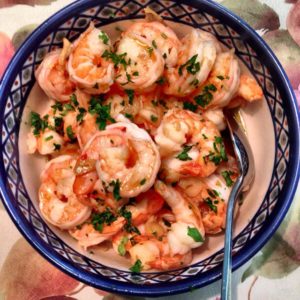 The secret is the TLC that makes it super sweet ( actually it's the brandy that takes the bite out of the garlic—save that for a science lesson).
The best part of this dish…my man made it for me…it's that easy!
Ingredients
1/4 cup olive oil
20 cloves of garlic ( YES- that's right…and don't skimp!) Thinly sliced is key.
20 large shrimp deveined, peeled and cleaned. (Large bag of Frozen will do)
1/4 teaspoon crushed red pepper
2 tsp of brandy
Fresh chopped parsley
Kosher salt
recipe adapted from JALEO in LA (Gambas Al Ajillo)
Preparation
Heat oil in large skillet, hot not smoking, add thinly sliced garlic and cook.  Be sure to keep an eye on it you do not want it to burn.  When it's golden brown add shrimp and crushed red pepper flakes.  When shrimp is cooked through add the brandy.  Cook 1-3 mins.  Stirring.  Toss with salt and fresh chopped parsley and serve.  Add some crusty bread if you like to absorb the delicious sauce.  I like it best served at room temp….seems to allow flavors to soak in together.  ENJOY and KISS- KISS.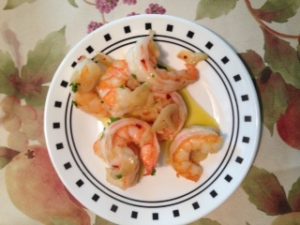 Makes about 4 servings.