Mini Cheese Cakes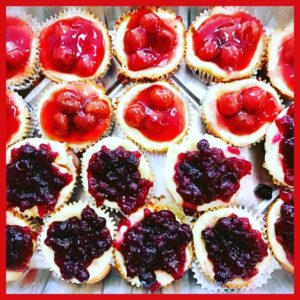 Ingredients
3 pkg. (8 oz. each) PHILADELPHIA Cream Cheese, softened
1 teaspoon vanilla
¾ cup and 2 tbspn of sugar
3 eggs
Zest of 1 lemon
Cans of fruit topping
Prep
Heat oven to 325°F. Line muffin tins with cups. Mix graham cracker crumbs, 2 tbspn of sugar and butter.  Press crust into muffin tin cups.
Beat cream cheese, ¾ cup of sugar and vanilla with mixer until blended. Add eggs, 1 at a time, mixing on low speed after each just until blended.  Blend in lemon zest.  Pour over crusts.
Bake 25 to 30 min. or until centers are almost set. Cool completely. Refrigerate 2 hours.
Add fruit topping.  I used the canned blueberry and cherry. Blueberry was excellent with the lemon.