Peach, Blueberry, Cherry Pie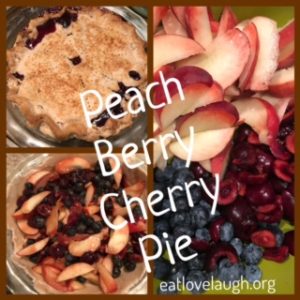 Ingredients
3 cups peeled, sliced peaches
1 cup cherries, pitted and halved
1 cup blueberries
1 tablespoon lemon juice
zest of one lemon
1/2 cup white sugar
1/4 cup brown sugar
3 tablespoons all-purpose flour
1/4 teaspoon ground cinnamon
1/8 teaspoon salt
1 tablespoon milk, or as needed
1 teaspoon raw sugar to sprinkle on top of crust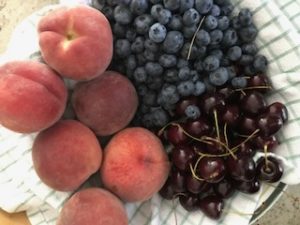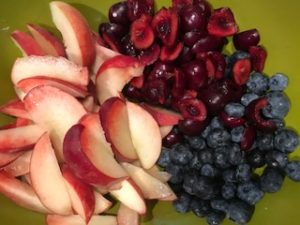 PREP
Preheat oven to 450 degrees F. Press one pie crust pastry into a 9-inch pie plate.  ( I used Crisco Pie Double Pie Crust Recipe – you can use store bought  crust if you don' t have time). http://www.food.com/recipe/classic-crisco-pie-crust-442968
Mix peaches, cherries, blueberries, and lemon juice together in a large bowl. Add 1/2 cup white sugar, brown sugar, flour, cinnamon, lemon zest, and salt; stir to coat. Pour fruit mixture into  pie crust. Place top crust over and and pinch. Brush top crust with milk; sprinkle with about 1 teaspoon of sugar.
Bake in the preheated oven for 10 minutes. Reduce heat to 350 degrees F ; bake until fruit filling is bubbling and  top is lightly browned, 45 to 50 minutes.