Quick & Easy Beef with Broccoli
(Or make it vegetarian and USE TOFU)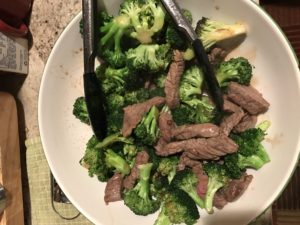 Ingredients
1/3 cup fish sauce
2 tablespoons Asian (toasted) sesame oil
1/3 cup sherry
Teaspoon of chili oil
3 tablespoons soy sauce
1 teaspoon white sugar
1 teaspoon cornstarch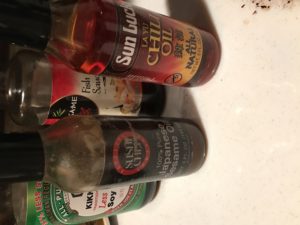 3/4 pound beef round steak, cut into 1/8-inch thick strips (OR USE firm TOFU)
3 tablespoons vegetable oil, plus more if needed
1 piece fresh ginger root thinly sliced
4-5 cloves garlic, peeled and smashed
1 pound broccoli, cut into florets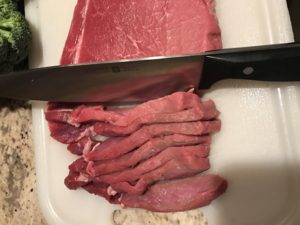 Directions
Whisk together the fish sauce, three- four dashes of chili oil, sesame oil, sherry, soy sauce, sugar, and cornstarch in a bowl, and stir until the sugar has dissolved. Place the steak pieces into a shallow bowl, pour the oyster sauce mixture over the meat, stir to coat well, and marinate for at least 30 minutes in refrigerator.
Heat vegetable oil in a wok or large skillet over medium-high heat, and stir in the ginger and garlic. Let them sizzle in the hot oil for about 1 minute to flavor the oil, then remove and discard. Stir in the broccoli, and toss and stir in the hot oil until bright green and almost tender, 5 to 7 minutes. Remove the broccoli from the wok, and set aside. Drizzle a little more chili oil over broccoli and a bit more soy sauce.
Pour a little more oil into the wok, if needed, and stir and toss the beef with the marinade until the sauce forms a glaze on the beef, and the meat is no longer pink, about 5 minutes. Return the cooked broccoli to the wok, and stir until the meat and broccoli are heated through, about 3 minutes.  Serve with or without rice.