Quick Pickled Veggies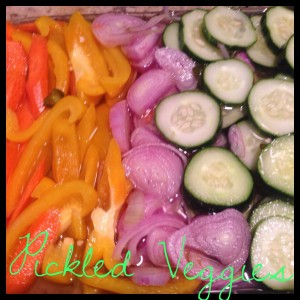 Ingredients
• 2 cups sweet & tangy rice vinegar
• 1/2 cup sugar
• ½ lime – fresh lime juice
• 2 tablespoons kosher salt
• 1 jalapeño, with seeds, thinly sliced crosswise
• 3 kirby cucumbers, sliced 1/4″ thick
• 2 large carrot, peeled, thinly sliced on a diagonal
• 2 medium shallots, thinly sliced into rings
• 1 yellow or red bell pepper sliced, no seeds.
Preparation
• Bring vinegar, sugar, lime juice, salt, jalapeño, and 1/4 cup water to a boil in a medium saucepan over medium-high heat, stirring to dissolve sugar. Let cool 10 minutes.
• Place cucumbers, carrot, and shallots in a large bowl or glass baking pan and add pickling liquid. Cover and chill at least 4 hours and up to 5 days. Perfect the next day.
• Serve with cottage cheese or as a topping on salad or pork loin sandwich.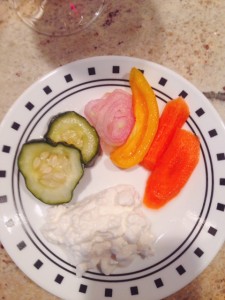 SERVINGS: MAKES ABOUT 1 QUART