Spinach, Mushroom, Barley Risotto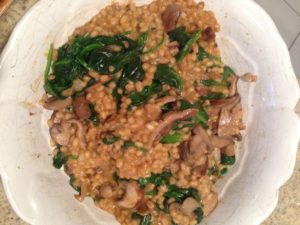 (This can be made Vegetarian)
Ingredients
3 shallots diced
1/2 tspn oregano
1/4 tspn cayenne pepper
1 oz brandy or sherry
6 tablespoons butter
1 cup barley
4 cups of beef stock (or chicken or veggie) (Heat in separate pan – you will add this warm to the barley).
2-3 table spoons olive oil
1 cup grated parmesan cheese
1 bag of spinach
16 oz of sliced mushrooms (mix is good) I used Shitake and Baby Bella mushrooms for this recipe.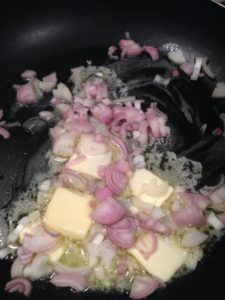 Prep
You will need two pans.
In one large skillet pan melt butter and sauté shallots. When tender add the cup of barley and stir in two cups of broth/stock. Keep on medium heat. Stir and after it absorbs add a cup/ladle of broth. Do this until all broth has been used and absorbed. Add 1 cup of grated cheese and stir.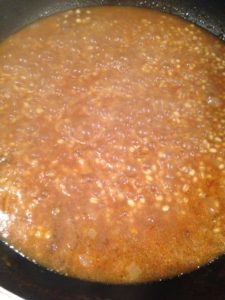 In the other pan ( cooking at same time) add oil , garlic and mushrooms. Cook down until all liquid is absorbed. Remove and put aside. Add spinach and toss until it wilts. Remove and add to mushrooms. Stir mushrooms & spinach into barley and serve with a bit more grated cheese.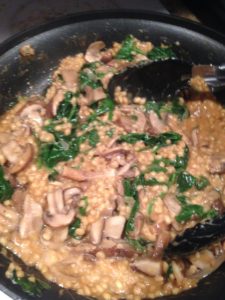 You can garnish with fresh parsley.  Add some white beans if you want t a bit of protein.
Makes a nice meal or side dish.