Steamed Artichoke Hearts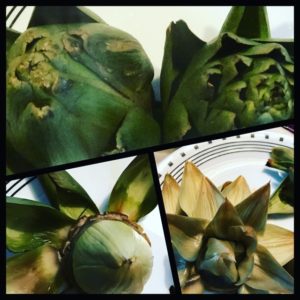 Ingredients
4 large artichokes
1/2 stick of butter
1/4 lemon (juiced)
2 cloves of garlic minced.
Prep
Trim Stem to make the bottom flate
Rinse Artichokes
Place in pan with 2 inches of water and cover. Bring to a boil and let steam for about 7-10 minutes.
Remove and place on a large plate.
Serve with melted lemon garlic butter – tasty!
When melting butter add garlic first. Let garlic turn translucent then add lemon juice. Don't be scared if some of the garlic turns a bit blue – that's from the lemon juice- it's fine to eat.