Stuffed Peppers ~ Two Ways
Grilled Stuffed Cubanelle Pepper & Roasted Stuffed Poblano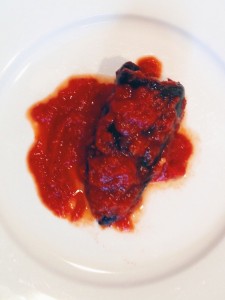 Cubanelle                                                          Poblano
Grilled Stuffed Cubanelle
Ingredients
• Cubanelle Peppers
• Fontina Cheese, Pepper Jack,  or Monterey Jack
• Marinara Sauce
Prep
Roast pepper on the grill.
Remove and let cool.
Remove skin and seeds
Stuff with Cheese
Wrap in Foil and place back on Grill (looking for grill marks)
Remove from foil and serve with marinara sauce
Roasted Stuffed Poblano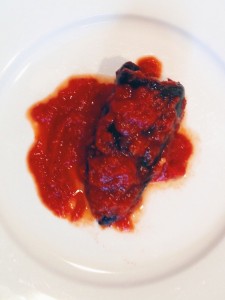 Ingredients
• Poblano Peppers
• Monchego Cheese
• Sausage & Apple Stuffing (recipe below)
• Marinara Sauce
Prep
Roast peppers on the grill
Remove and let cool
Remove skin and seed
Stuff with Monchego and Apple Sausage Stuffing
Place in roasting pan with marinara sauce
Bake in Oven 375 for 15-20 minutes
(It's good use of Thanksgiving Stuffing)
Sausage & Apple Stuffing
Ingredients
• Ground Beef
• Jimmy Dean Original Sausage
• Onion
• Celery
• Apple
• Dried Cranberries
• 2 cups Chicken Broth
• 1 bag herbed bread crumbs
• 1 stick of butter
• Cook sausage & beef (drain)
• ¼ cup of white wine
Prep
Sauté onion, celery apple with a couple of tablespoons of butter and splash of white wine
Melt stick of butter in Broth (warm on stove)
Add Broth, melted butter, sautéed veggies, handful of dried cranberries and handful of walnuts to stuffing mixture. Put in greased baking dish. Bake 30 minutes at 350.