Summer Squash Fritters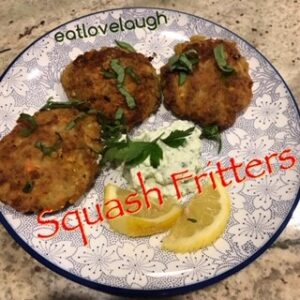 Ingredients
2-3 summer squashes ( I used 1 patty pan and 1 zucchini)
½ yellow onion
1 carrot
2 cloves of garlic
½ cup Fresh herbs – you can use what you like. I used basil, parsley and mint (it's what's currently growing in my garden)
2 eggs
Lemon zest
1 tbsn Salt
½ tbspn Pepper
1 tspn Crushed red pepper
1-2 cups of seasoned breadcrumbs ( you can use gluten free)
1 cup of grated Parmesan cheese
Flour (can use bob's red mill flour if you want to make it gluten free)
Coconut oil ( you can use any oil you like to use when frying)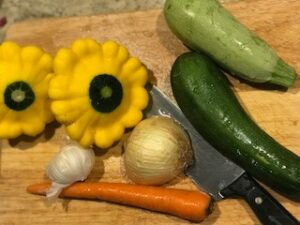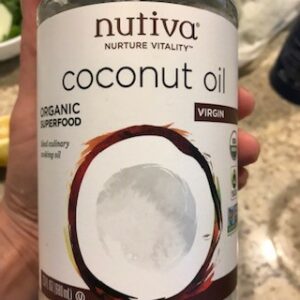 Prep
Grate separately ( onion, garlic, squashes, and carrot) of put in food processor. If you have time squeeze out the water from the squash and onion. Place in a large bowl.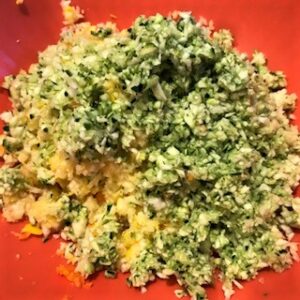 Add salt, pepper, crushed red pepper and mix all ingredients together. Add eggs, breadcrumb, and grated cheese. If it's still feeling pretty wet add more breadcrumb.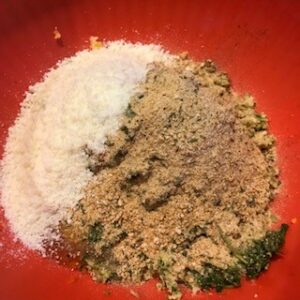 Heat pan ( medium high) and add 2 tablespoons of coconut oil. As you continue frying you will continue to add oil to the pan so that the fritters are covered on the sides ( but not over the top).
Loosely form little balls (like meatball size) and dredge in flour. Then flatten lightly and place in hot pan and hot oil. When sides start to look cooked it is time to turn the fritters. Be careful, they are delicate and may fall apart.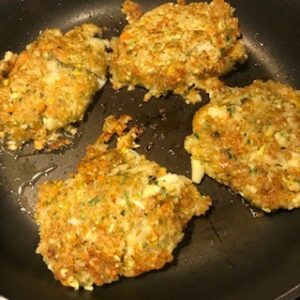 When finished frying place on paper towels to absorb the excess oil. As you continue to cook place on tray in warm oven.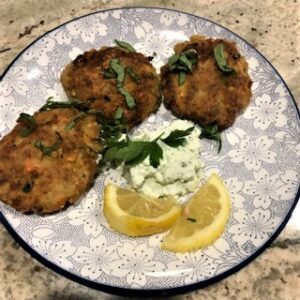 When finished garnish with fresh lemon and chopped herbs. We served ours with a homemade tzatziki sauce.
Tzatziki Sauce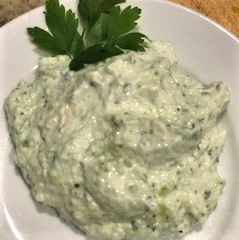 Ingredients
1 cup of Fage 2 % plain Greek yogurt (drain water)
1 cucumber (seeded, peeled, and processed and drain water)
4 tbspn finely chopped parsley and mint
4 cloves of garlic finely chopped
½ lemon juiced
Salt to taste
Prep
This recipe should be started earlier in the day.  It tastes better if made a day ahead.  Place yogurt in fine strainer and drain water into a bowl. Discard water.  You want it to be super thick.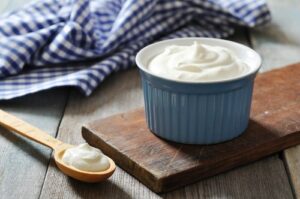 Seed, peel and put cucumber in food processor. You can add herbs to it too. Do the same with the cucumber. Drain all excess water.  NO Water!
You can save the cucumber juice and add it to a martini if you like. It's pretty refreshing.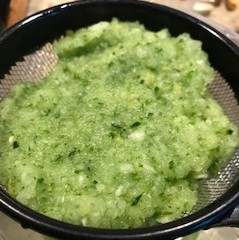 When yogurt and cucumbers have finished draining. Add cucumber, garlic, herbs and lemon juice to yogurt Mix well. Season with salt.