Tococat says Keep those ears toasty.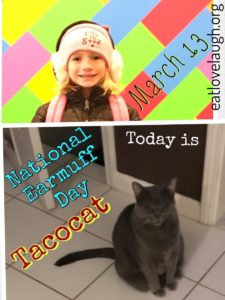 March 13 is National Earmuffs Day.
In 1873 15-year-old Chester Greenwood  created the first earmuffs.  Greenwood was from Maine and it appears this little tidbit of information is  a source of pride for all Mainics. ( I know they're called Mainers….but I like Maniacs better).
Basically, he bent the ends of some wire and covered it with fur to keep his ears warm so he could continue to ice skate.
Then  a few years later Greenwood created and patented  the  "Greenwood's Champion Ear Protectors."  in the spring of 1877.   The ear protectors were supplied to US Soldiers in WWI.
Annually, in Farmington, Maine, a.k.a.the "Earmuff Capital of the World" hold a chili cookoff,, fun run, tree lighting ceremony and polar bear dip,on the first Saturday of December.  And all creatures attending the festivities are adorned in earmuffs