Vegetable, Egg, and Cheese Strata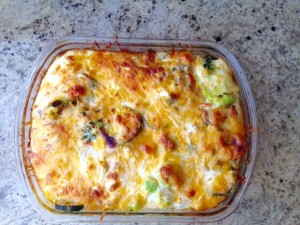 Ingredients
1 sm. onion
3 tbsp. butter
1/4 tsp. oregano
1/2 lb. Swiss cheese
½ lb Cheddar Cheese
2 c. milk ( or ½ & ½)
1/2 tsp. pepper
1 med. Zucchini
1 carrot
1 small package mushrooms (cut or sliced)
2 cups steamed broccoli
2 cups steamed cauliflower
pinch crushed red pepper
7 slices firm white bread
4 eggs
1 tsp. salt
Pinch of Nutmeg
¼ cup White wine
Heat oven to 375 degrees.
Butter a baking dish ( or use Pam Spray).
Cut onion, mushrooms, carrots and zucchini into thin slices. Melt 1 tablespoon butter, oregano and crushed red pepper in a frying pan. Add the onion, mushrooms, carrots, and zucchini and cook over medium heat until softened. Add steamed broccoli and steamed cauliflower to other vegetables and cook until they are soft and browned. Add some of your favorite white wine and cook until it evaporates.
Cut the bread into 1/2 inch cubes. Grate the cheese (or buy it already shredded).
Beat together the eggs, milk, salt, pepper and nutmeg.
Layer the bread, vegetables and cheese into the pan and pour the milk mixture over all. Dot the top with 2 tablespoons butter. Bake until browned, about 30 minutes.
Serves 4-8.