Zucchini Parmesan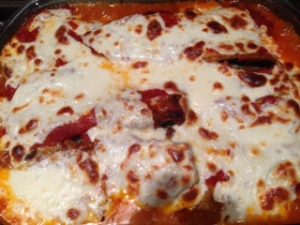 INGREDIENTS
• 2 medium zucchini, peeled and sliced
• 2-3eggs, beaten
• 2 cups dry Italian seasoned breadcrumbs
• 8 ounces shredded mozzarella cheese
• 1⁄2 cup shredded Parmesan cheese
• 3 -4 cups of your favorite marinara sauce
• olive oil ( I used vegetable oil – doesn't burn as quickly as olive oil)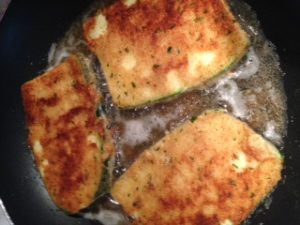 PREPARATION
1. Preheat oven to 425 degrees*.
2. Dip zucchini slices in egg and then coat with breadcrumb mixture and bake on cookie sheets drizzled with olive oil until golden brown, approximately 10 minutes on each side at 425 degrees.* If you decide to fry then set oven to 375. Or you can Fry in pan with olive oil.
3. Spread a thin layer of marinara sauce on the bottom of a 9×9 inch baking dish.
4. Put one layer of breaded zucchini slices on top and coat with more sauce and a generous sprinkling of both cheeses.
5. Repeat this procedure to use up all the zucchini.
6. Cover with tin foil and bake at 375 degrees for approximately 30 minutes or until top layer of cheese is melted and bubbling golden brown.