Beef Bulgogi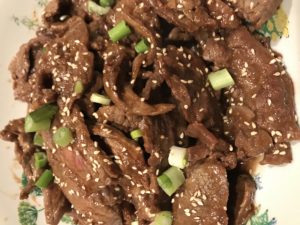 Bulgogi literally means "fire meat"  it's made of thin, marinated slices of beef or pork grilled on a barbecue or on a stove-top griddle. It is also often stir-fried in a pan in home cooking.
Ingredients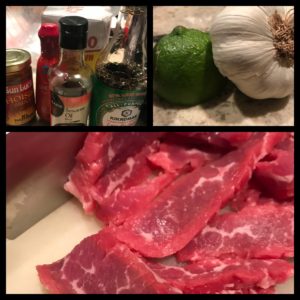 1 lb of flank steak sliced thin across the grain
1 white onion sliced thin
4 cloves of minced garlic
1/4 cup of soy sauce
2 tablespoons brown sugar
1/4 cup chopped green onion
2 tablespoons of sesame oil
2 tablespoons of Hoisin Sauce
1 teaspoon Gochujang sauce ( or sriracha sauce)
2 tablespoons of rice vinegar
salt and pepper to taste
toasted sesame seeds
1 cup uncooked rice
1 lime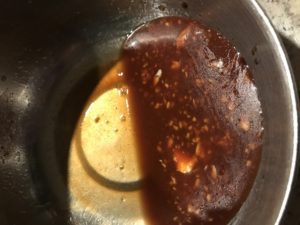 Prep
Mix hoisin, sesame oil, soy sauce, garlic, sugar, and gochujang together.   Add juice of 1/2 lime. Thinly slice the beef across the grain.  Add meat to bowl and marinate overnight or at least an hour. Overnight is best.
Heat pan and add some vegetable oil to the pan.  When hot add meat. Do not crowd meat.  When brown turn and cook other side.  Set aside and continue cooking.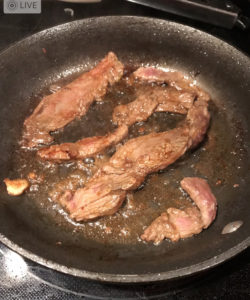 In a separate pan heat and add some vegetable oil.  Cook onions on high heat quickly and set aside.  Do not cook down.
Once meat is finished cooking add remaining marinade to pan and bring to boil then turn down heat.  Deglaze pan if necessary.  Add meat and simmer for a few minutes.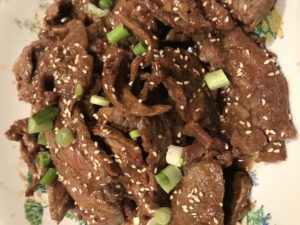 Serve on plate with rice, kimchi, cucumber salad, and sprinkle with sesame seeds
and scallions on top and a squeeze of fresh lime.