Gratitude-being Thankful is good for you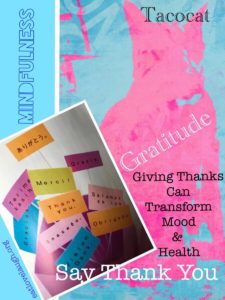 People around the world express gratitude in many different ways. Most of these languages have distinctive words, such as grazie (Italian), merci(French), asante (Swahili), tualumba (Tonga), dhanyawaad (Hindi), miigwetch (Ojibwe), and go raibh maith agat (Irish.)
Gratitude binds communities and people together.
Giving thanks will:
-Make you feel happier
-Boost your energy levels
-Feel healthier
-Improve relationships
How to do it?
Don't just say " hey, thanks" mean it.
Research shows that making time to focus and write down ( by hand or electronically) we can focus our thoughts and help us understand what and who are important to us.
Make some time to list your thoughts a couple times sweet. This will boost happiness. Happy people tend to be healthier. Healthy people tend to have more energy . Count your blessings
What are you grateful/thankful for.
Share ?