Panko Crusted Chicken with Tonkatsu Sauce
Ingredients
2 lbs chicken cutlets
3 eggs
1/4 water
salt
flavored panko
garlic powder
Veg. Oil
Flour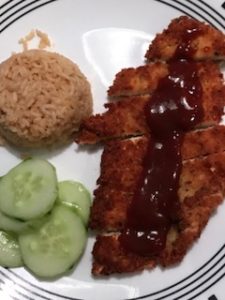 Tonkatsu Sauce (Japanese BBQ Sauce)
1/2 cup ketchup
1/4 soy sauce
1 tbspn dijon mustard
3-4 tbspn miron rice vinegar
1-2 tspn sesame oil
1/4 worchestshire sauce
Prep
In deep fry pan add about 1/4 – 1/2 inch of vegetable oil. Heat.
Season the cutlets generously with salt and garlic powder. Dip in Flour, shake off excess. Dip in egg & water mixture then pack in seasoned panko crumbs. Place cutlets in hot oil. Make sure to leave space in between so they cook evenly and get crispy. Remove and drain on paper towels. Set aside in oven (350degrees) for 10-15 minutes.
Make the sauce. Mix all the ingredients together. If you would like it a bit sweeter feel free to add a bit of sugar or strawberry jam.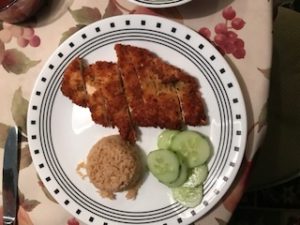 Serve with a side salad and rice.