Polish Red Cabbage
Czar won't Kapusta Zasmazana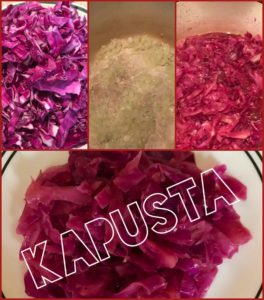 Pronounced " cherr-VOH-nah kah-POOSS-tah zahs-mah-ZAH-nah"
Ingredients
1 (3-pound) head red cabbage, washed, dried, cored and shredded
1 medium onion, shredded
3-4 tablespoons butter
1 cup water
4 tablespoons red-wine vinegar
4 tablespoons sugar
1 tablespoon molases
1/2 teaspoon black pepper
2-3 teaspoon salt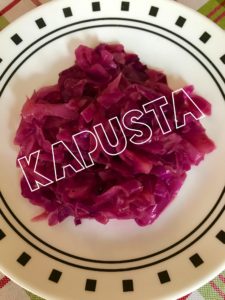 Prep
In a large pot or Dutch oven, cook cabbage and onion in butter or oil on medium heat until it collapses, about 5-10 minutes.
,Combine water, vinegar, molases, sugar, pepper, and salt until sugar until dissolved.
Add to cabbage mixture. Bring to a boil. Reduce heat to medium-low.
Continue to cook, stirring occasionally, until cabbage is tender, about 15 minutes.
Let sit overnight in Fridge … Better after it sits for a day or two .