Roasted Parsnips & Carrots with Rosemary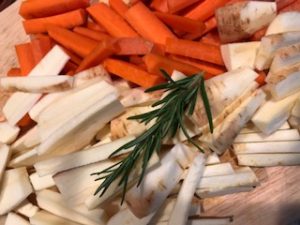 Parsnips from local CSA  The Farm Woodbury, CT
Ingredients
3-4 parsnips
3-4 carrots
olive oil
salt
pepper
fresh rosemary
parsnips and carrots(movie of my 6 year old helping prepare veggies)   So easy….even a kid can do it!
Prep
Peel and cut veggies into "french fries" size strips, toss in 2-3 tablespoons of olive oil. Season generously with sald and pepper and about a tablespoon of freshly chopped rosemary.  Place on a large non- stick cookie sheet.  Place in oven at 425 degrees F.  Roast in oven for 30-45 mins.  Check about 20 mins into the roasting and turn over or shake to brown on all sides.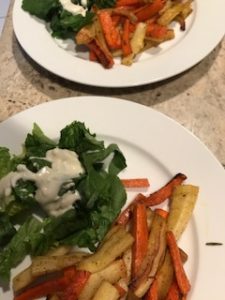 Serve as a side or with a tasty garden salad.