Spaghetti Squash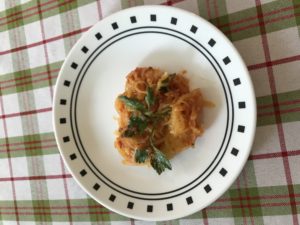 vegetarian recipe
Ingredients
Spaghetti squash
2 cloves garlic – minced
2 tablespoons  of olive oil
salt & pepper
1 tablespoon of butter
1/4 cup grated cheese
1 tablespoon of chopped parsley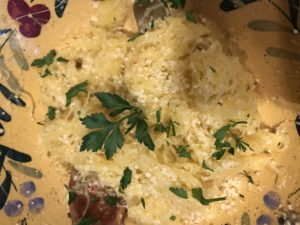 Prep
Cut the squash lengthwise. Remove the seeds.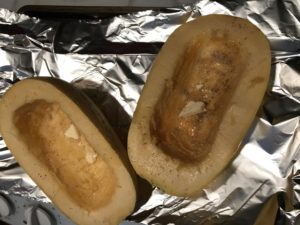 Season with salt & pepper and minced garlic.  Drizzle about 1 tablespoon of olive oil. Place in oven at 350 degrees for 1 hour.  Roast fleshside up for 30 minutes, then turn fleshside down for remaining 30 minutes.  When fork tender it's done.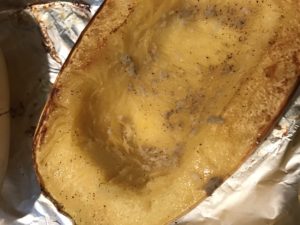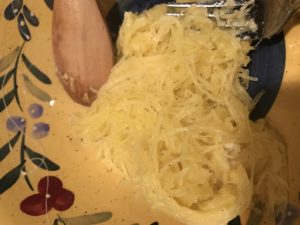 Remove squash with fork and scrape.  Set in bowl add some more olive oil, salt, pepper, and grated cheese.  Garnish with some chopped parsley.  Add some tomatoe marinara sauce if you like.  I enjoyed it more with the sauce.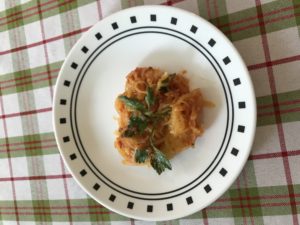 Some Nutritional Facts:
Spaghetti squash is a summer squash that resembles the popular pasta when cooked, with the inner flesh coming out in strings that look like noodles. It's a good alternative to pasta, particularly if you're cutting back on refined grains. The squash is low-calorie, with 35 calories in a one-cup serving and less than a gram of fat. Spaghetti squash has a mild, slightly sweet taste, that manages to stand up even to strong meats, and complements a variety of flavors.