Amazing  Mac & Cheese (not your kid's kind of lunch)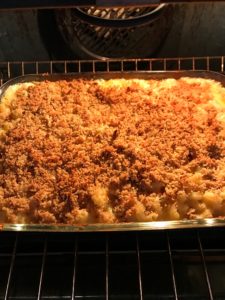 Ingredients
6  tablespoons butter, divided
¾ cup italian seasoned breadcrumbs
¼ ounce Parmesan, finely grated (about ¼ cup)
1 teaspoon salt
8 ounces cavatappi or other short curly pasta
2 ½ cups whole milk
½ small onion, grated (finely chopped – about size of a clementine)
1 garlic clove, finely grated
2 tablespoons all-purpose flour
4 ounces emmentaler cheese, grated
4 ounces Gruyère, grated
7  ounces sharp white cheddar, grated
7 ounces baby swiss cheese, grated
Pinch of cayenne pepper
1 lb of good curly or elbow type pasta  ( I used DeCecco Cavatappi)
Prep
Mince onion and garlic.  Saute in skillet with 4 tablespoons of butter, until translucent.   Add breadcrumbs and parmesan cheese.  Set aside.
Bring large pot of salted water to a boil .  Cook the pasta.
Grade the cheeses put aside.
In a sauce pan heat two tablespoons of butter.  Add 2 tablespoons of flour. cook until light brown.  Add warm milk slowly.   It will thicken.   Add handfuls of cheese to the sauce.   Add a dash of cayenne.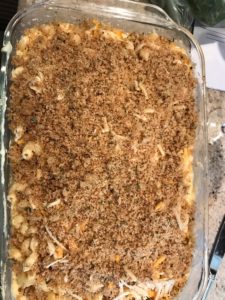 Place cooked pasta in a large glass baking dish – that has been buttered.   Add cheese, stir and coat all pasta.  Add breadcrumb topping.  Bake at 350 for 10-20 minutes.  You want the cheese bubbling and the breadcrumbs toasty golden brown.
IMG_1198  click to watch
Ready to Eat – makes fantastic left overs!!