Cuban Mojito Pork Roast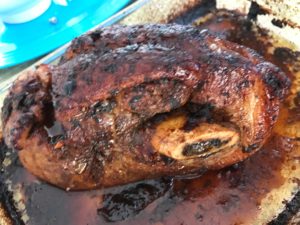 Ingredients
4-5 lbs  of  pork shoulder
sea salt/kosher salt
2 teaspoons cumin
2 teaspoons black pepper
1 bulb garlic finely chopped
juice of one large orange
juice of two limes
juice of one lemon
1/4 cup finely chopped fresh oregano (save 2 tablespoons0
1/4 cup finely chopped mint
1/4 cup olive oil
1/4 cup finely chopped cilantro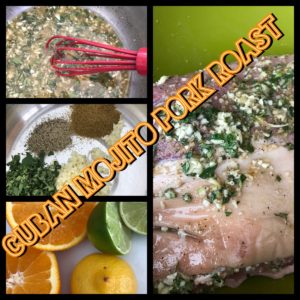 Prep
Set aside freshly chopped cilantro/oregano/mint for later.
make the Mojo ( Mojito marinade)
combine garlic, olive oil, chopped oregano, orange juice, lime juice, lemon juice,cumin, salt, pepper, and oregano in a large bowl.  Whisk together.   Pour half  over generously salted pork shoulder (can marinate overnight is you like).   Put remaining marinade in the fridge for sauce later.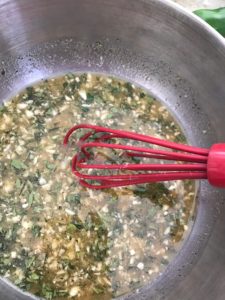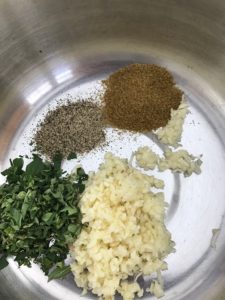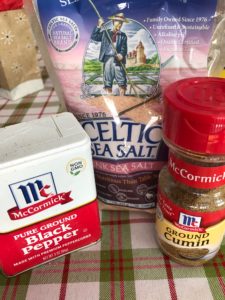 Place pork with marinade in large rimmed baking dish. Cover with heavy foil.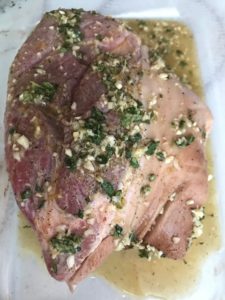 Place in Oven 325 degrees for 3 hours.   Add some chicken stock or water if starting to dry on bottom of pan.   Keep covered.  After 4 hours uncover and cook for another hour or so.  Remove from oven.  Let pork rest 15 minutes.
Take juices from pan add reserved mojo (mojito) to drippings.   Pour over sliced pork, add the chopped mint/cilantro/oregano to meat and pour some sauce over.  Serve with Black Beans and Rice.   Garnish with cilantro and lime wedges.
Leftovers make tasty sandwiches or fry up with some eggs and salsa fresca.