Quick Black Beans (and rice)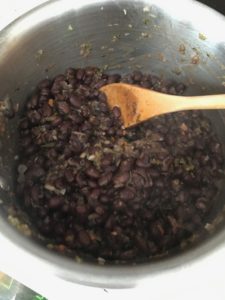 This is a super fast version…tastes like it cooked all night.
Ingredients
15 oz can black beans(rinsed)
2 tablespoons olive oil
1/4 cup finely chopped carrot
4 cloves minced garlic
1 tablespoon fresh chopped oregano
handful of freshly chopped cilantro
1/2 cup finely chopped green bell pepper
1/2 up finely chopped white onion ( red is fine too)
1 small package Sazon without Annatto (goya makes it)
1 tablespoon cider vinegar or white wine
3/4 cup water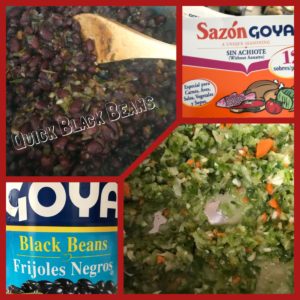 Prep
Finely chop the veggies and set aside.
Heat oil in a medium sauce pan; add veggies &  oregano  and let them cook down.  Add Can or rinsed beans.  Bring to a boil, add water and Sazon.  Simmer for about 10 -15 minutes.  Ready to serve with white rice and garnish with chopped cilantro.