These crazy looking, seemingly horrible sounding fruits, come in red and yellow colored skins. The flesh inside the red ones are either white or red. The red flesh tends to be sweeter.  The yellow-skinned ones always have white flesh.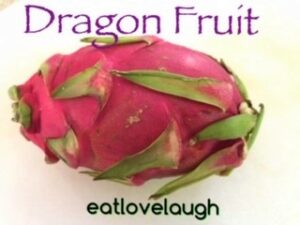 Dragon Fruit is sometimes called the strawberry pear and is a tropical fruit that grows on a type of cactus.
Don't be scared because these sound like scary things to eat. Dragon Fruit contain many healthy benefits and you should try to eat some when you can. The texture reminds me of the seeding part of the kiwi and the white ones are mild in flavor. My daughter suggests adding these to your smoothies.
So before we get into all the healthy stuff you should know about Dragon Fruit let's take a look at how to cut one and see what it looks like inside.
Step One – Pick a Good One.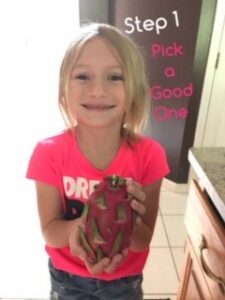 Step Two- Slice it in Half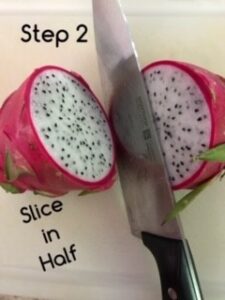 Step Three- Slice each half into Quarters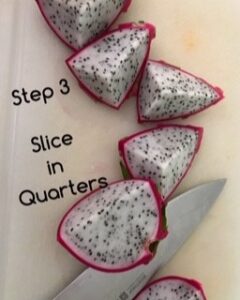 Step Four – Peel the skin with your fingers.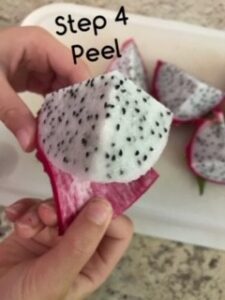 Step Five – Eat It!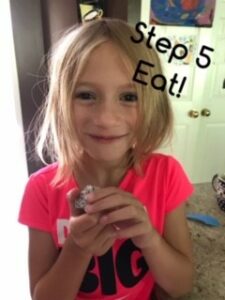 You can cut the pieces into smaller bite sized chunks after peeling it. Or just pick up and each with your hands.
Check out our video on how we cut and tasted our Dragon Fruit. (music choice by ila)
AND now for the super healthy info you are wondering about!
It improves you Immune System
It improves your Digestion
It improves your Gut Health
 It's rich in Nutrients
Helps Prevent Chronic Disease
Prevents Anemia
Prevents Acne
Prevents Birth Defects
Improves Vision
 Improves Bone & Teeth Health