Hasenpfeffer—Rabbit Stew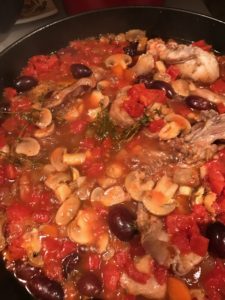 Ingredients
Rabbit 3-4 lbs. cut up into 8-10 pieces
2 oz tomato paste
1 small can diced tomatoes
1c dry red wine (I used a Chianti)
2-3 cups chicken stock
1 small package button mushrooms (sliced)
1 large carrot diced fine
1 medium onion diced fine
2 large celery stalks diced fine
2 cloves of garlic smashed
5-6 sprigs of thyme
1/2 cup calamata olives(pitted)
Olive oil about 1/4 cup
Salt & pepper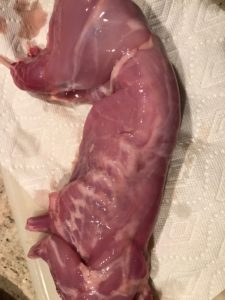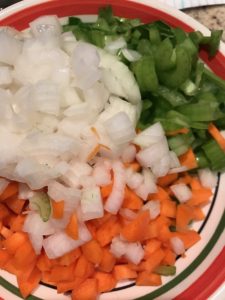 Prep
Cut up meat, season with salt & pepper. Place in large pan add 2-3tbspn of olive oil, place in meat. Brown, in two batches. Set aside. Add celery, onion, and carrots. Cover. Cook until tender. Add tomato paste. Brown, and then mix together,scape up the brown bits. Add rabbit back, pour can of diced tomatoes, add mushrooms, add Wine, add broth, olives, and sprigs of thyme. Cover & cook 30 mins on Med-high heat covered. Serve with crusty bread or fine wide noodles. Pairs well with a hearty red wine.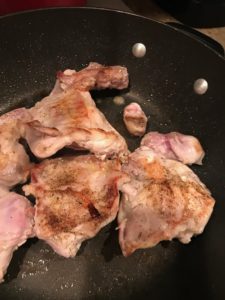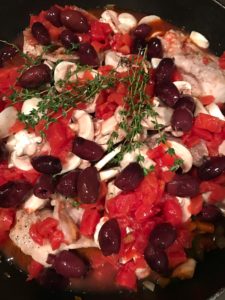 Super tasty -fast rabbit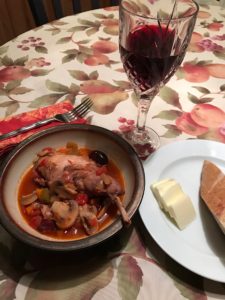 You can find rabbit near the duck, bison, and lamb meats – or just ask your butcher.