Italian Wedding Soup – in honor of our Wedding Anniversary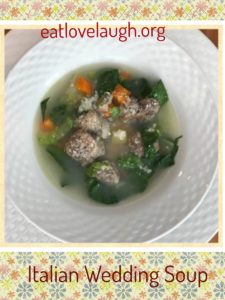 Ingredients
MEATBALLS:
 2 cloves of garlic finely minced
1/3 lb ground veal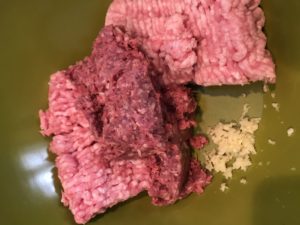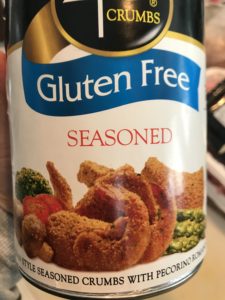 The portions for the meatball mixture is a total of 1 lb.  You can use any combination of ground meat you like (even turkey or chicken).  Use extra meat to make Chili con Carne.  Recipe for chili was published on February 20, 2018.
Soup:
3 carrots peeled and chopped small
4-5 stalks of celery chopped small
1 onion chopped small
2 tablespoons olive oil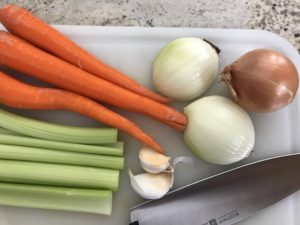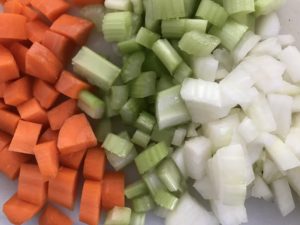 Prep
Meatballs  –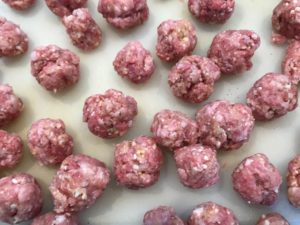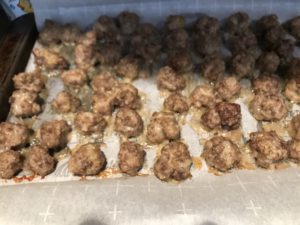 add all ingredients to a large bowl.  Mix well with your hands.  If the mixture is too dry add a bit a milk OR if it is too wet add a bit more bread crumbs.  Don't over mix it – it will become tough.   Roll into 1/2 inch or 1 inch meatballs.  Place on baking sheet in 350F oven for 20-25 minutes.  When finished baking place gently in large pot of soup.
Soup –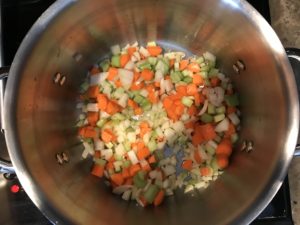 In a large pot add olive oil. Set at medium heat.  When oil is hot add celery, carrots, onion, and garlic.  Stir occasionally – saute for 3-5 minutes.  Add broth to pot and veggies.  Keep at medium.  Bring to a low boil, turn down heat to low and simmer for 30 minutes.  Add meatballs and  chopped escarole.  When escarole wilts it it ready to serve.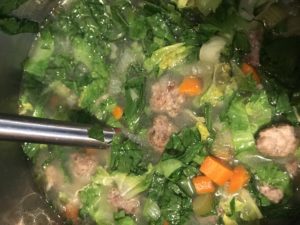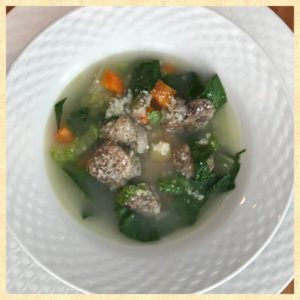 Feel free to add more salt & pepper, or a bit of cayenne to the soup.
Garnish with Grated Parmesan Cheese.