Bacon, Spinach & Gouda Frittata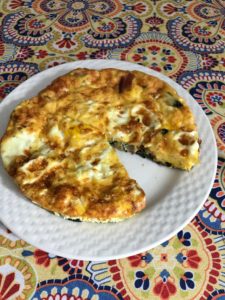 It's GOUDA!
Ingredients
8 strips of bacon
1 clove garlic
1 onion
1 package frozen spinach, thawed and drained
salt,
pepper
1 cup shredded Gouda cheese
1/2 cup whole milk or 1/2 & 1/2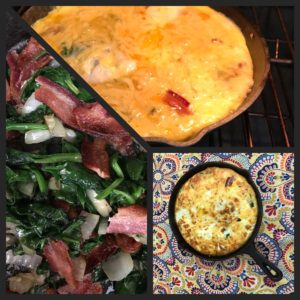 Prep
Cook bacon, set aside and cut into pieces.
Saute onion, garlic and spinach in large cast iron skillet.
Add bacon (cut it into pieces) and egg mixture  and salt & pepper. Top with cheese.
Cook on stove top until edges start to form.  When mostly cooked put it in the oven at 350 for 30 minutes.  Take out and let cool.  You can flip it onto a plate to serve.  Makes a good breakfast treat, or easy lunch.  Can be eaten at room temperature.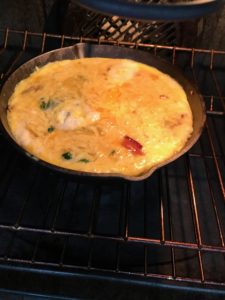 Watch this to see it being made  https://flipagram.com/f/15OQ1pyLimy