Kohlrabi Cucumber Slaw & Sauted Kohlrabi Greens
we used everything….waste not want not
Special feature in this post—

-TWO RECIPES in ONE!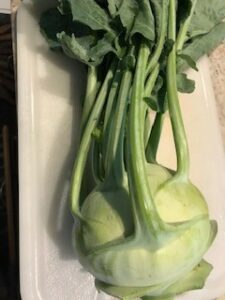 So, by now you know we've been getting our weekly CSA basket from The Farm.  This week we had some fresh cucumbers and a head/bulb of kohlrabi.  Kohlrabi is somewhere between a  cabbage and a turnip.  The greens are like chard or mustard greens as far as texture and how to prepare.
Kohlrabi gets it's name from the   German Kohl ("cabbage") plus Rübe ~ Rabi and Swiss German variant turnip.
Kohlrabi Cucumber Slaw with Cilantro Lime

Ingredients
Kohlrabi shredded in mandolin
Cucumber peeled , seeded, grated
1 jalapeño seeded & finely chopped
1/2 yellow onion
1/2 cup chopped cilantro
1/4 cup chopped mint
1 lime (juice & zest)
2 tbspn honey
1/4 olive oil
1/4 cup white vinegar
1/4 cup OJ
Salt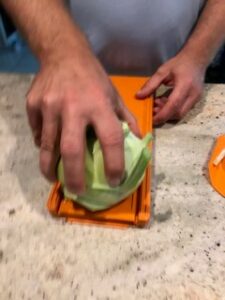 Prep
Shred the kohlrabi on a mandolin. Peel& seed cucumber and grate. Finely chop onion and herbs.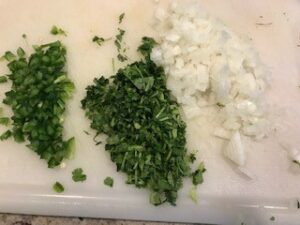 Zest & juice lime and  to veggies. Add oil, vinegar, OJ and zest and mix. Season with salt.  Let sit a bit in fridge and stir/mix before serving.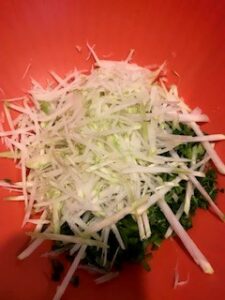 Great side  with summer bbq.
Sauted Kohlrabi Greens
Ingredients
Kohlrabi Greens
1/2 red onion
1-2 pieces of quality uncured bacon
2 tbspn olive oil
salt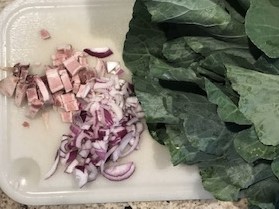 Prep
Clean and chop greens. Dice onion and chop bacon. Heat pan and add olive oil. Add onion and bacon to large pan with olive oil.
When bacon and onions are mostly cooked add greens. Turn occasionally until tender. Season with salt.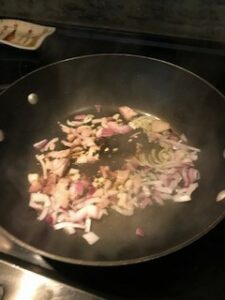 Makes a nice side dish for our grilled pork tenderloin.