Lentil Cauliflower Curry- VEGAN Dish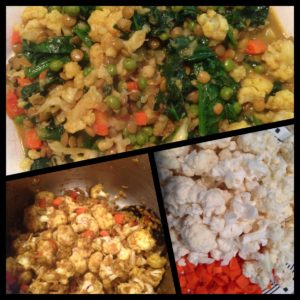 Ingredients
2-4 tbsp vegetable oil ( I used olive for sautéing onion then used avocado for cauliflower) Use what you like.
1 onion, finely chopped
1 garlic clove, minced
2 inch piece fresh ginger, peeled and grated
2 tsp ground coriander
2 tsp ground cumin
½ tsp ground turmeric
1/2 teaspoon red curry paste
dash of cayenne powder
⅓ cup dry lentils
1 cup vegetable broth, hot
1 head cauliflower, cut into small florets
1 large carrot, peeled and diced
1 can can coconut milk
1 cup frozen peas, thawed and drained
large small bag of spinach
1 tbsp lemon juice
salt and freshly ground black pepper
Prep
In a large saucepan, heat 1-2 tbsp of the oil and gently cook the onion for 10 minutes, stirring frequently, until soft and translucent. Add the garlic, ginger, coriander, cumin and turmeric and cook for 2 minutes.
Stir in the lentils. Pour in the broth, bring to the boil, then reduce the heat, cover and leave to gently simmer for 10 minutes.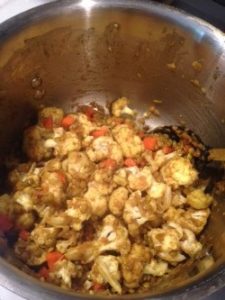 Heat the remaining oil in a frying pan and fry the cauliflower and carrots until lightly browned. Add to the lentil mixture with the carrot and coconut milk.
Bring the curry to a gentle simmer and cook for a further 10 minutes, or until the vegetables are tender. Stir in the peas and cook for 3–4 minutes.
Stir in lemon juice
Add spinach at the end. Let it wilt. Serve as is or with rice.
Garnish with fresh cilantro or parsley if you like, then season to taste with salt and freshly ground black pepper.
serves 4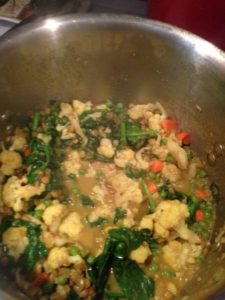 This would make a tasty lunch or fantastic side with your cod, seabass, roasted chicken or roasted lamb. Give it a try.