VIETNAMESE SUMMER ROLLS
these were made with shrimp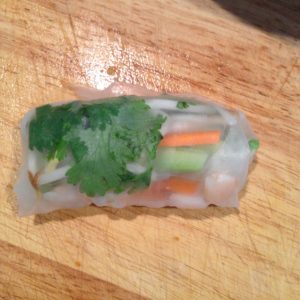 *you can use any crunchy veggies you like
Serve with dipping sauce or spicy peanut sauce (can be store bought)
I prefer the dipping sauce.
Ingredients
Adapted from Bon Appetit
DIPPING SAUCE
• 1 teaspoon sugar
• 1 tablespoon fresh lime juice
• 1 tablespoon mirin (sweet Japanese rice wine)
• 1 tablespoon soy sauce
• 1 tablespoon unseasoned rice vinegar
1/4 teaspoon sesame oil
1/4 teaspoon chili oil
Just a drop of the oils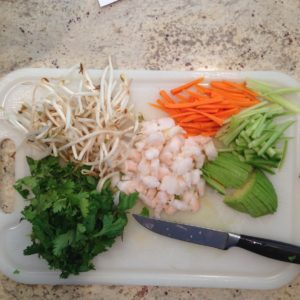 FILLING
• 2 ounces thin rice noodles
• 12 8-inch rice paper rounds or any size
• 2 cups halved Bibb lettuce leaves (or red leaf)
• 1 cup shredded rotisserie chicken or 8 ounces cooked medium shrimp (about 12) halved lengthwise, or thinly sliced tofu
• 1 medium carrot, very thinly sliced into 2-inch matchsticks
• 1 English cucumber, thinly sliced into 2-inch matchsticks
• ½ avocado, thinly sliced
• ½ cup cilantro leaves with tender stems
Use the frozen, cleaned shrimp and just thaw – super easy.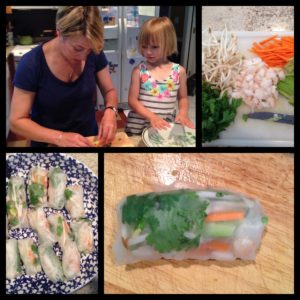 PREPARATION
Dipping Sauce: Stir sugar and 1 Tbsp. warm water in a small bowl to dissolve sugar. Stir in lime juice, mirin, soy sauce, and vinegar; set dipping sauce aside.
Soften rice noodles according to package instructions. Drain; run under cold water until chilled.
Fill a shallow dish with warm water. Working with 1 rice paper round at a time, dip in water, turning occasionally, until just pliable but not limp, about 5-10 seconds (replenish with more warm water as needed). Transfer to a cutting board.
Place a ½ lettuce leaf or cilantro in center of the rice paper. Top with a small handful of rice noodles and a few pieces each of chicken/shrimp/tofu, carrot, cucumber, and avocado. Fold bottom of rice paper over filling, then fold in sides and roll like a burrito into a tight cylinder; cut in half if desired. Place roll, seam side down, on a platter. That's it!!!
. Serve with reserved dipping sauce or peanut sauce.
• Do Ahead: Rolls can be made 1 hour ahead. Cover with saran wrap and chill. Or eat the next day.