Mediterranean Pasta Salad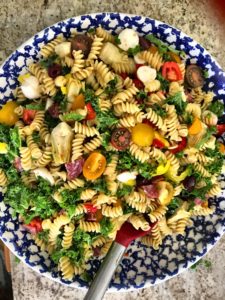 Ingredients
1 pound quality pasta
1 can whole artichoke hearts
1 cup of fresh mozzarella
1-2  cups small tomatoes (cut in 1/2)
1 cup diced sopresseta
1 cup chopped kale
1 cup chopped roasted red peppers
1 cup chopped banana peppers
1 cup chopped kalamata olives
1 small bottle zesty italian dressing
salt & pepper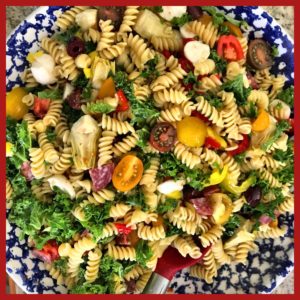 Prep
Boil, drain,  and cool pasta.
Cut veggies into small, same sized pieces.  Cut meat into pieces (same size as veggies). Quarter the artichoke hearts. Cut cheese in 1/2. Finely chop the kale.  Add to pasta in large bowl.
Mix togethe rand pour about 1 cup of dressing over pasta/veggies and toss.  Let sit an hour or so in the fridge.
Ready to serve.  Lasts several days.  Good for a summer BBQ.