Roasted Peppers, Fresh Mozzarella, Fresh Basil, & Fresh Tomatoes…..mmmmmm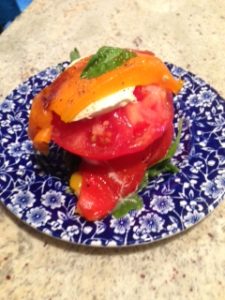 Super delicious and obviously beautiful appetizer or meal.  Looks way more difficult than it appears.  If you can slice a tomato then you can do this!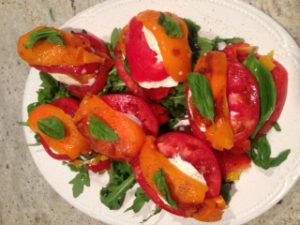 My mother (a.k.a Nonna) would make this along with the million courses served at our amazing holiday dinners.  I am sure if you want to add something else to it you could….possibly even marinara sauce.  It's hearty enough to be a small meal.  Eat with friends or share with your special someone.   I hope you enjoy Nonna's Tower of Love.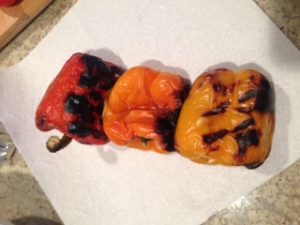 Ingredients
Red, yellow, orange Bell peppers
Fresh mozzarella
Fresh Basil
Arugula
Tomatoes (garden are best or heirloom if you can get them in season)
Olive Oil
Salt & Pepper
(eggplant optional)*
Preparation
Roast peppers on the grill. Let cool, remove skins and seeds.  Slice  ( 4-6 pieces)
Slice Mozzarella, Slice tomatoes thick cut. Arrange on bed of arugula, layer tomato, pepper, mozzarella, basil and repeat.  Sprinkle with salt & pepper.  Drizzle with extra virgin olive oil.   *You can also add a slice of roasted eggplant or a slice of breaded eggplant for the base.