Eggs, Arugula, and Herbs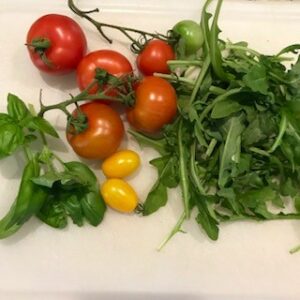 I typically eat whatever I had for dinner the night before for breakfast. I am a super early riser and do not eat when I wake. I tend to get hungry around 9:00 a.m. and I end up eating what most people would consider "lunch" and not breakfast type foods.
It's all good. Some protein, quality fat, and veggies. What's not to love.
But today, my kids asked me to make them some eggs. Well, I am not a big egg fan; so I wasn't much moved to add in a few extra eggs for me.
Then I noticed the tomatoes and herbs from my garden sitting on the counter. And taadaah!  Watch how  I made this tasty breakfast!
Ingredients
Free Range Eggs
Tomatoes
Handful of Arugula ( you can use any greens)
Fresh Herbs ( basil, parsley, cilantro, etc) whatever you have
Organic Butter
salt & pepper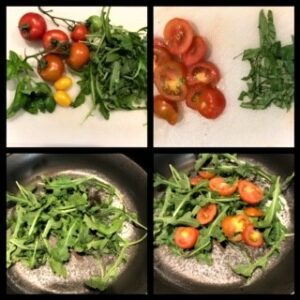 Prep
Heat pan and add 2-3 tablespoons of organic butter. Let melt. Add handful of fresh arugula (or your favorite greens).
Add tomatoes and season with salt and pepper. Crack eggs over the top and continue cooking. You may need to push through the whites from time to time to let it cook fully. Add fresh herbs and continue cooking.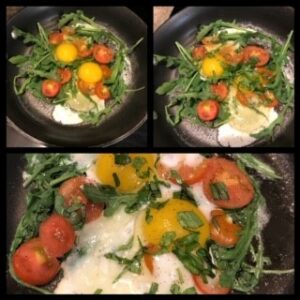 Or you can flip if you like to make it over easy style.
When it's done just slide it onto your plate.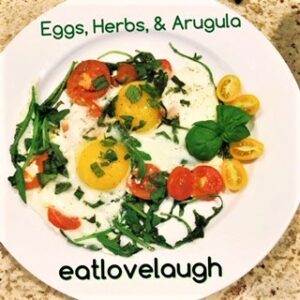 Quick, Easy, Delicious!