Seafood Paella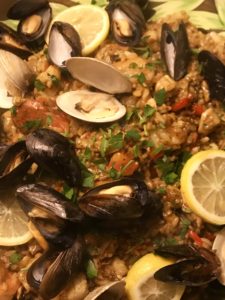 Ingredients
3 dozen mussels cleaned (debearded)
8 oz Clam juice
Saffron
1 lb of cod (captian's cut into bite size pieces)
2 dozen small clams, cleaned
1 lb of large/jumbo shrimp (keep tails on, deveined)
1 lb calamari (tubes  & tentacles) cut tubes into small rings
Kosher or sea salt
1/2 cup minced parsley
8 cloves of garlic
2 tablespoons of sweet Paprika
1 medium onion, finely chopped
8 tablespoons of olive oil
lemon wedges
1 can diced tomatoes
3 cups white rice
1 small red bell pepper, diced
1 large can or box of Chicken broth (warm)
1 lb Spanish Chorizo (not mexican).  The spanish is made with paprika and the mexican is heavy on the chili, which will interfere with the dish. D'Artagnan is a quality brand.
1 bunch of green onions, or scallions, diced
1 lb chicken thighs, skin removed, and diced into bite-size pieces.
1 bottle white wine (table wine is fine…just a decent bottle because you want it to taste good.  A pinot grigio or savaugnon blance or spanish white is fine. DO NOT use chardoney or reiseling).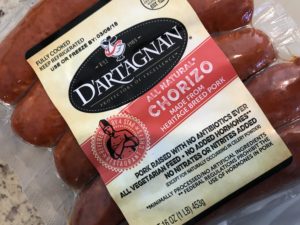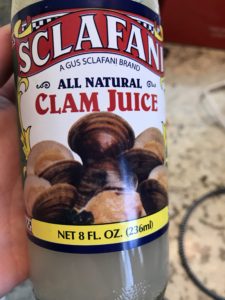 Prep
Most of the work is done ahead of time.  The fun part is throwing in a large pan or on the grill in a grill pan and cooking it while socializing with your friends.   It's a fun group activity.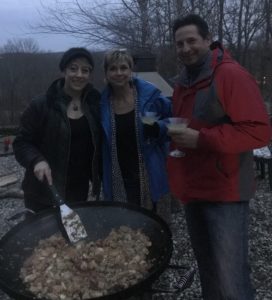 Prep ahead,  Cut pepper, onion, scallions, garlic and chorizo and set aside.  This will be added to the large pan when you begin to put it all together.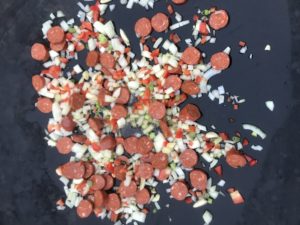 In a large pot add about 1-2 inches of water and place cleaned muscle inside. Cover.  Bring to a boil.  When mussels are open, they are done cooking.  Remove mussels and set aside in large bowl or serving pan.  Do the same for the clams.   Save the clam/mussel juice.  You will add this to the paella, along with the bottle/jar of clam juice.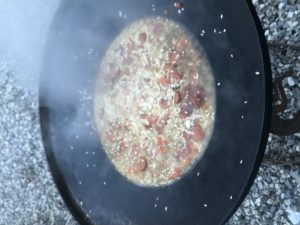 Next cook in small batches (separately), the fish, scallops, calamari, chicken, and shrimp.   Basically, season generously all with salt & pepper.  Saute in large pan with olive oil and minced garlic.   As each is cooked, set aside.   Your fishes and meat can be placed in a large bowl.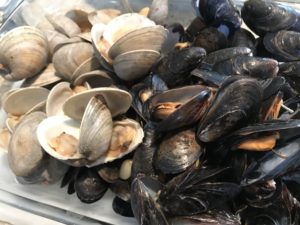 Remove mussels and clams (when cooled) from shells.  Set aside 6  of each to garnish your serving plate for effect.   Place the clams and mussels in the bowl with the other meats and fishes.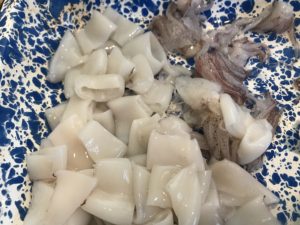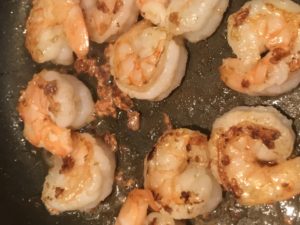 Bring all your prepared food, wine,  can of tomatoes, lemon wedges, olive oil, rice, and chicken broth to your grill or cooking area.  Have everything ready to go.   When pan is hot, add oil.   Toss in onion, scallions, peppers, and saute.   Add rice, and gradually add chicken broth (almost cooking it like a risotto).  Chicken broth should be warm when added.  Mix/stir and add more liquid as needed.  Add the clam juice (bottle) and brothyou saved from mussels & clams. When rice is cooked, add the meats and fish.   Toss and stir.  Add about 1-2 cups of white wine, let it cook down.   Add 3-4 strands of saffron and stir.   Add salt and pepper to taste.   Add about 1/4 cup of the chopped parsley.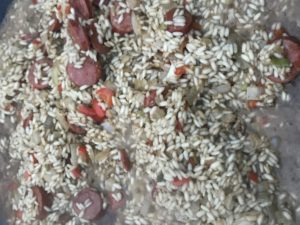 Serve on a large platter.  Spring with  2-3 tablespoons of fresh parsley.  Place the clams and mussels that are still in the shell and some lemon wedges around the dish.  Serve with a crisp white wine.