Roasted Root Vegetables ~ Stovetop Version*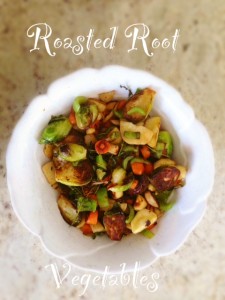 Made this today….since we have SNOW in the forecast and needed a home cooked meal.  
Made a Sunday Roast  and had root veggies for side dish. 
Ingredients
3 carrots
3 celery stalks
½ turnip
3 parsnips
Small bag of Brussel Sprouts
4-5 sprigs of Thyme
3 tablespoons of butter
2-3 tablespoons olive oil
Salt
Pepper
Prep
Trim Brussel sprouts, blanch and set aside, then cut in ½.
Cut all veggies in same size so they cook at the same rate (large or small your choice)
Heat oil in large sauté pan, add Brussel sprouts, let them char. Add butter and rest of small cut veggies and thyme.   Stir occasionally, to get all veggies brown on all sides. Add salt & pepper to taste.
Takes about 10-15 minutes to cook – so time it for the last few minutes of your roast and finish this while your roast rests before serving.
* Can be made by tossing in olive oil, salt & pepper and roasting in oven for 30 minutes.
Makes an excellent side dish for Thanksgiving Dinner, Pork Roast, or Chicken Dinner.  Leftovers can be used in a potpie or tossed in a vegetable soup.  Perfect for a winter or fall meal.