Shitake Mushroom, Garlic, Shrimp in Sherry Cream Sauce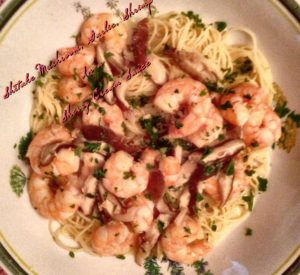 Ingredients
• 2 lbs jumbo shrimp peeled & deveined
• 12-16 oz shitake mushrooms (remove stems and slice thin)
• 4-5 cloves of garlic (sliced thin or minced0
• ¼ cup heavy cream or ½& ½
• 1 cup sherry cooking wine
• 3-4 tablespoons olive oil
• 4 tablespoons butter
• Salt, pepper, and ground cayenne pepper
• 1 lb angel hair pasta
• Fresh parsley
Prep
• Clean shrimp
• Slice mushrooms
• Slice garlic
• Saute Garlic in olive oil over medium heat. When translucent add sliced mushrooms. When mushrooms are tender, remove garlic and mushrooms. Set aside. Add shrimp to oil. When shrimp is pink add garlic and mushrooms back to pan with shrimp. Add butter and sherry. Let simmer. When butter is melted add a little salt & pepper to taste. Add a dash of ground cayenne. Add cream and stir.
• Serve over angel hair pasta. Sprinkle freshly chopped parsley over dish.
• Or in large bowl and dip crusty bread into sauce.