Shrimp & Sausage Gumbo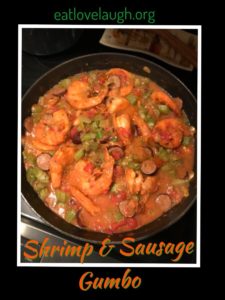 Ingredients
1 white onion diced

2 stalks of celery chopped (same size as diced onion)

1 bell pepper diced OR 1 small jar of green chiles (I used the jar in this recipe)

2-3 cloves of garlic minced

3 cups of chicken broth or shrimp stock

1 large can of diced tomatoes

1 – 2 lbs of deveined shrimp  peeled

1 lb of andouille sausage (use the

d'artagnan brand

) and slice

1 tspn garlic powder

1 tspn onion powder

1 tspn paparika

1 tspn black pepper

4 chopped green onions -scallions

1 package of sazon seasoning

1-3 tspns of cayenne pepper (taste as you go along to get the heat you prefer)

2 tbspn cajun spice blend (your favorite)

¾ flour (¼ for shrimp and ½ cup for roux)

Olive oil….will use as you go along

1 package of okra thawed. Rinse it can be slimy but will cook down.

Cooked white rice (I cooked 2 cups…make as much as you like)
Click here and watch how it is made
Prep
Dice onion, celery, and pepper.  Add 2 tbspn of oil to large pan. When hot add onion, celery, and pepper.  Saute until tender. Add miced garlic and sliced sausage to onion mixture. Cook for 5- 10 minutes.  You want the fat and spicy flavor to come out the of the sausage. When cooked remove from pan and add a bit more oil (coat bottom of pan).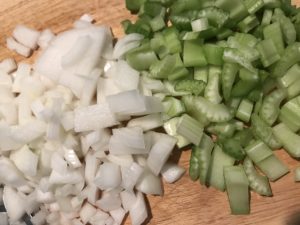 Add shrimp coated in spice & flour mixture.  Dredge shrimp in ¼ flour, sazon packet, and 1 tbspn of cajun spice mixture.  Place shrimp in pan and sear on both sides. Set aside when finished and start your roux.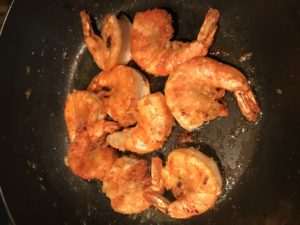 Add more oil to pan (about 2-3 tablespoons).  Add ½ cup of flour and mix with the whisk until brown in color. This will happen quickly.  The darker the better. Add 3 cups of broth to roux. Continue to mix together. Add whole can of diced tomatoes with liquid and stir.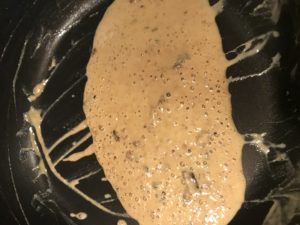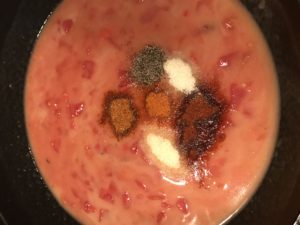 While you're cooking the shrimp place the okra in a small, dry saute pan.  You will cook on medium heat to get rid of the slimy texture and brown it a bit.  When ready add to the tomato and broth mixture.
Add your veggies, shrimp, and sausage to the large pan.  Stir gently. Taste and add more seasoning to your liking.  I like this with a little heat so I added a couple more dashes of cayenne.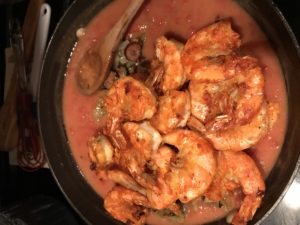 Serve over rice. And garnish with freshly chopped scallions.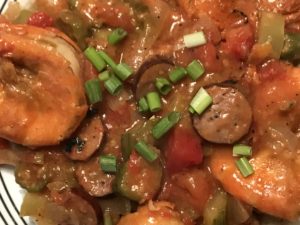 Makes about 6 servings.